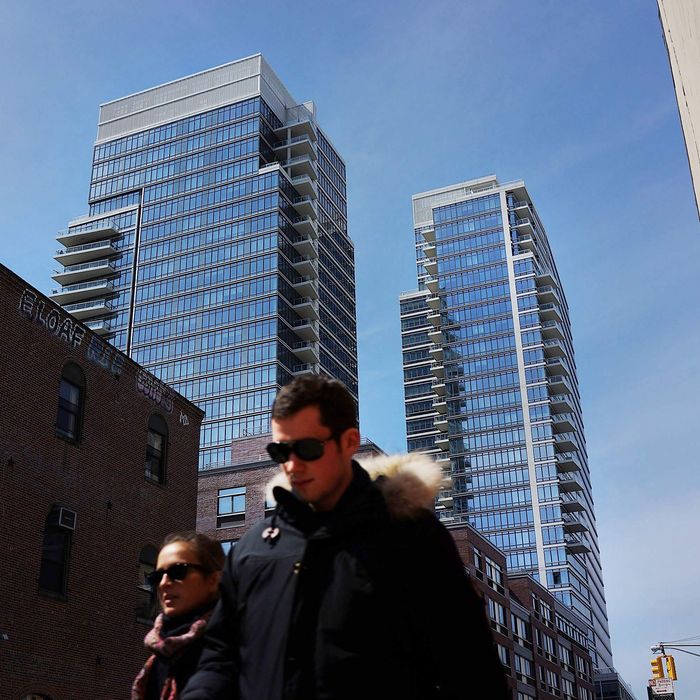 Condoburg.
Photo: Spencer Platt/Getty Images
After years in Manhattan's shadow, it's no secret that Brooklyn has entered a new era. To illustrate how much things have changed, brokerage firm AptsandLofts.com has just released its ten-year survey of the borough's real estate and, aside from common-sense discoveries that have made many a still-renting-after-all-these-years New Yorker weep — that Williamsburg townhouse you thought was over-reaching in 2003 at $378,000 (the average price of a house then) has tripled in value, for instance — we found a few other interesting takeaways.
• A total of 5,617 condos sold and closed in Williamsburg in the last decade. Many of them were likely designed by ubiquitous architect Karl Fischer who, according to a 2010 New York Times story, was the architect for at least 50 buildings constructed since 2002.
• And as heady as the pre–Lehman Brothers debacle years were, with 567 condos selling in 2008 (right before the market went to pot), they can't compare to 2011, when 1,047 units found buyers.
• Seven times more townhouses sold in Bed-Stuy last year (744) than in BoCoCa (104). And yes, the portmanteau for Boerum Hill, Cobble Hill, and Carroll Gardens is apparently still a thing.
• The most expensive place to buy a condo has been, for seven of the last ten years, Dumbo. Not in 2009, 2012, and 2013, though, when Brooklyn Heights — land of brownstones — proved more expensive, average-price-wise. (Also, people were paying an average of $908,000 for a Dumbo condo way back in 2003!?)
• The most expensive property sold during the decade, a townhouse on Willow Street that fetched $12.5 million, has impressive provenance: Truman Capote lived in its basement. He reportedly wrote Breakfast at Tiffany's and In Cold Blood there. The creator of Grand Theft Auto bought it. That seems fitting, somehow.