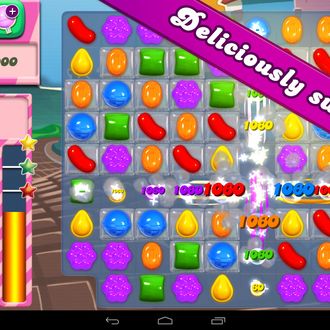 Recently, Benny Hsu, a game developer, wanted to make an iPhone game that would resonate with the masses. So he strung together a bunch of seemingly random words, and All Candy Casino Slots – Jewel Craze Connect: Big Blast Mania Land was born.
All would have been good, except that one of the words Hsu had chosen — candy — was also in the title of Candy Crush Saga, the massively popular time suck. And the maker of Candy Crush Saga, British game developer King, had just taken out a trademark on that word. King promptly got Apple to pull the plug on Hsu's game.
According to Gamezebo, Hsu got a cease and desist shortly after King's trademark was approved. Even though his game had nothing to do with lining up candies and avoiding a growing mass of chocolate, it was deemed too similar to Candy Crush Saga to be allowed to keep its name.
"Myself and other indie developers don't have the money or resources to fight back," Hsu said. "I plan on changing the name if that is what I must do."
Other entities with candy in their titles can probably expect C&Ds of their own in relatively short order. Lucky for Dylan's Candy Bar and mid-nineties alt-rockers Marcy Playground, King's trademark will apply mainly to iPhone games.
Update: King responds:
"We have trademarked the word 'CANDY' in the EU, as our IP is constantly being infringed and we have to enforce our rights and to protect our players from confusion. We don't enforce against all uses of CANDY – some are legitimate and of course, we would not ask App developers who use the term legitimately to stop doing so. 

The particular App in this instance was called 'Candy Casino Slots – Jewels Craze Connect: Big Blast Mania Land', but its icon in the App store just says 'Candy Slots', focusing heavily on our trademark. As well as infringing our and other developer's IP, use of keywords like this as an App name is also a clear breach of Apple's terms of use.  We believe this App name was a calculated attempt to use other companies' IP to enhance its own games, through means such as search rankings."