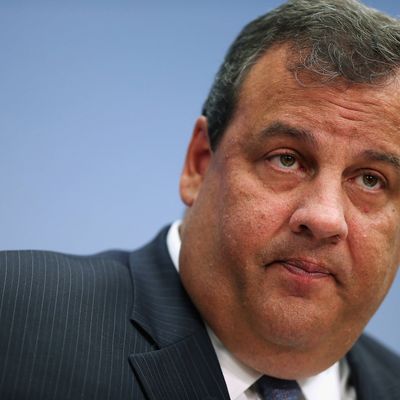 Photo: Chip Somodevilla/Getty Images
Rather than take to the podium and yell at people like he usually does, Chris Christie reacted to the damning reveal of his staff's vindictive e-mails and text messages by canceling his one public appearance for the day and issuing a vague statement claiming ignorance. "What I've seen today for the first time is unacceptable," he said, denying previous knowledge of the plan to close lanes of the George Washington Bridge to get back at a local mayor who did not endorse his reelection as New Jersey governor.
"I am outraged and deeply saddened to learn that not only was I misled by a member of my staff, but this completely inappropriate and unsanctioned conduct was made without my knowledge," Christie continued. "One thing is clear: this type of behavior is unacceptable and I will not tolerate it because the people of New Jersey deserve better. This behavior is not representative of me or my Administration in any way, and people will be held responsible for their actions."
The problem for Christie, and his far-from-secret presidential ambitions, is that the behavior may indeed be representative and easily linked back to "the garish controversies lurking in the shadows of his record."
The fallout is also getting worse. New reports indicate that the lane closures may have a body count:
Emergency responders were delayed in attending to four medical situations – including one in which a 91-year-old woman lay unconscious – due to traffic gridlock caused by unannounced closures of access lanes to the George Washington Bridge, according to the head of the borough's EMS department.

The woman later died, borough records show.
Response time for emergency vehicles in two separate cases were reportedly doubled.
Additionally, "There was a missing child that day. The police had trouble conducting that search because they were tied up directing traffic," a Fort Lee councilman said today, according to Mother Jones. (The four-year-old was later found.)
Christie's easily defeated Democratic challenger in last year's state election, Barbara Buono, told the Daily Beast, "This is a guy who runs a paramilitary operation. His people don't sneeze without checking with him first." She called the idea that the governor was not made aware "ludicrous."
Meanwhile, the man on record causing a traffic jam to punish the mayor of Fort Lee, David Wildstein, is fighting a subpoena to testify in the bridge probe by filing a lawsuit. Wildstein, who resigned early last month as the scandal bubbled, was scheduled to testify in front of a legislative panel on the matter tomorrow.
At some point, Christie, too, will face questions — at least from reporters — and that's bound to be good.
This post has been updated throughout.