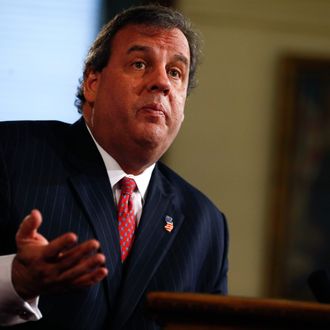 Photo: Jeff Zelevansky/Getty Images
Scandal-plagued New Jersey governor Chris Christie will be sworn in for his second term in Trenton on Tuesday, but the $500-a-head party at Ellis Island's Great Hall that was supposed to follow the ceremony has been canceled. The reason given for the cancellation is today's snowstorm, which is expected to last into tonight and could make ferry travel to the celebration dangerous and unpleasant. It might be for the best, since it doesn't sound like the party was going to be a particularly great time, anyway. 
Over the weekend, The Wall Street Journal reported that there had been "a drop in enthusiasm" surrounding Christie's second inauguration. A 50-person dinner at New Jersey's Liberty House Restaurant for the governor's closest supporters was called off "because of a lack of response." And Republican leaders were allowed to give away more tickets to the since-canceled Ellis Island party and swearing-in ceremony than they were when Christie first took office in 2010. As late as a few days ago, Christie's brother, Todd, was calling people for "last-minute cash" to pay for the inaugural events. The New York Times reports that, at one point, Christie got on the phone himself to try to assure donors that he is "moving beyond" his recent bad press.
While second-inauguration turnouts are often lower than those of their predecessors, calling off the party probably won't be great for the Christie camp's morale or image. On the other hand, it's nice of Mother Nature to save attendees the awkwardness of spending an evening trying to come up with topics of conversation that don't involve the George Washington Bridge, the mayor of Hoboken, or  any other Christie-linked shenanigans.