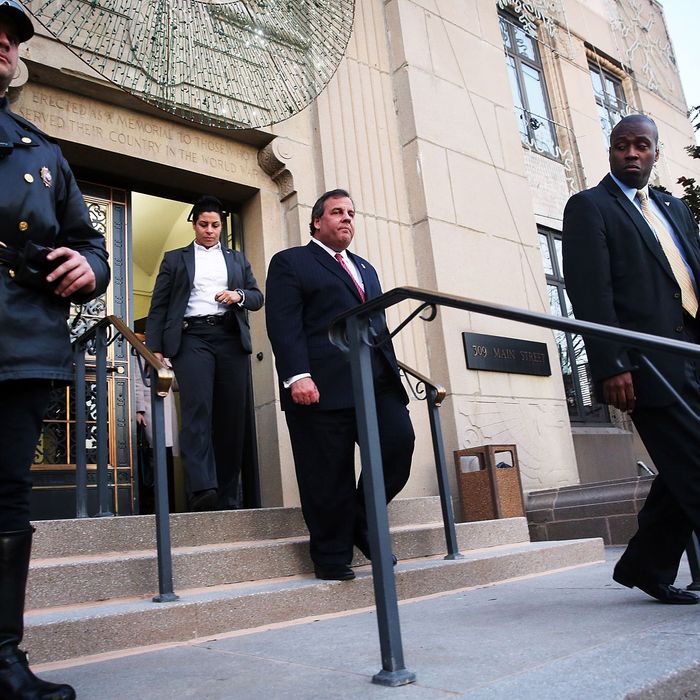 Photo: Spencer Platt/Getty Images
Last week, I argued that the bridge scandal will likely doom Chris Christie's presidential chances, a conclusion that was sufficiently strongly worded so as to force everybody else in the media to disavow it, even people who essentially agreed (i.e., "I wouldn't go so far as Jonathan Chait …"). I did not suggest that the bridge scandal by itself killed an otherwise flourishing candidacy. My point was that the apparently healthy Christie proto-campaign is teeming beneath the surface with deadly flaws, all of which are worsened by the bridge scandal. The latest evidence is CNN's report that federal officials are investigating Christie's potential misuse of relief funds for Superstorm Sandy.
The facts of this new case appear to be at least moderately damning. Christie used some portion of Sandy relief funds for marketing campaigns promoting the state's rebuilding to attract tourists, which is a defensible expenditure. The trouble is that he chose a firm that bid $4.7 million for ads that featured Christie and his family, rather than a $2.5 million bid for ads that did not feature Christie.
I suppose one could argue that Christie is simply so telegenic that it would be malpractice to not use his grinning visage to lure out-of-state beachgoers. Or perhaps the state needs to subtly reassure tourists Christie has mellowed and is now less likely to ruin their beach vacation by hurling abuse at them while they try to eat an ice-cream cone. But it is certainly plausible to conclude that Christie used federal disaster relief in part to build his national image.
There are now two ongoing investigations into alleged abuses of power, each of which is potentially fatal. Even if neither produces further damaging allegations, they both have already yielded enough public information to be used against him. Beyond that, there is a long list of potential scandals dating back to before his governorship. The odds that any one of them develops into something indictable are high.
And they're not just high in the mathematical sense that a person who gets shot at a bunch of times is more likely to be hit by a bullet. They're high because the high number of scandals surrounding Christie, and the pattern of gleefully using his power to punish his foes, suggests that at least some of the allegations against him are true.The odds of any scandal striking pay dirt are not mathematically independent. The deeper problem is simply that Christie appears to be genuinely corrupt on a scale that is rare for a modern top-tier presidential candidate.
The scandals don't kill Christie's chance in the sense that Republican voters will read the news stories and decide irrevocably they can never vote for the man. The way it works is to create a series of liabilities that his opponents can easily exploit: regional (an untrustworthy Northeastern political boss), personal (the traitor who hugged President Obama and thereby handed him the election), and ideological (gun-controlling, Obamacare-surrendering moderate.)
The interesting and complex thing about Christie is that he possesses some real political instincts, and has positioned himself both stylistically and substantively in a way that helps him attract Democratic support. That is a large and important political asset. From my perspective, some of Christie's heterodox actions – embrace of Obama, willingness to accept Medicaid expansion – mitigate concerns about his abuses of power. For conservatives, they intensify them.