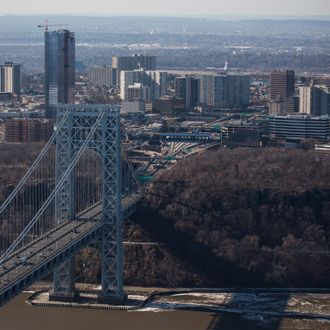 Photo: Andrew Burton/2014 Getty Images
The New Jersey General Assembly committee in charge of investigating Governor Chris Christie's bridge-traffic scandal wasted no time in distributing subpoenas throughout the state government, including to Christie's inner circle and, for good measure, the governor's office as a whole. The twenty subpoenas represent something of a dragnet, requiring their recipients to surrender "certain documents concerning all aspects of the finances, operations, and management of the Port Authority of New York and New Jersey, including, but not limited to, the reassignment of access lanes in Fort Lee, New Jersey to the George Washington Bridge, and any other matter raising concerns about abuse of government power or an attempt to conceal an abuse of government power." Good thing Christie's got a tough lawyer. Or does he?
Piling on the legal and political trouble for Christie on Friday, the Port Authority of New York and New Jersey said it was looking to challenge his engagement of Randy Mastro and the firm Gibson, Dunn & Crutcher. The firm has been representing the Port Authority in a lawsuit over a toll hike in 2011, The Wall Street Journal reports. "The authority's lawyers will contend that Mr. Mastro's representation of the Christie administration in the bridge scandal would be a conflict, given his continuing work for the authority in the investigation of the toll increases, a person familiar with the authority's concerns said." The same source told the Journal the interests of Christie and the Port Authority could soon diverge, meaning they would need different lawyers. And Christie would lose another one of his few remaining friends.
Update: The full list of subpoenas is now available, and includes Chris Christie for Governor, Inc. Check it out in full at NJ.com.