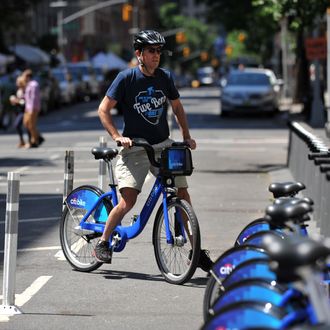 Photo: STAN HONDA/AFP/Getty Images
PBSC Urban Solutions (known as Bixi), the Canadian company that makes the bike-share equipment for Citi Bike and similar programs in other cities, filed for bankruptcy on Monday. The organization has 50 million Canadian dollars in debt, mostly thanks to a dispute with 8D Technologies, which makes the software used in its bike-share stations. When 8D declined to sell all the rights to its technology to Bixi, Bixi decided to make its own similar software — and, as many Citi Bike users are aware, it sometimes doesn't work very well, and the company was slow to fix it.
As a result, New York and Chicago refused to pay Bixi a combined $5.3 million, and Alta Bike Share, which has the license to use Bixi's technology in New York, demanded $11 million in damages from the company. Suppliers also say that Bixi owes them $9 million. Meanwhile, Montreal, which has taken over operation of the company, is demanding repayment for a $38 million loan. And, to top it all off, 8D is suing them for $26 million.
So, what does this mean for New York's blue bikes? Probably not much. "NYC Bike Share is committed to sustaining and expanding CitiBike as the world's best bike share system," said Citi Bike spokesperson Dani Simons "We do not anticipate yesterday's news out of Montreal to affect our ability to do so." Sorry, Citi Bike haters — when a city has a program that thousands of people want to use even when it is four degrees outside, you figure out a way to keep it.