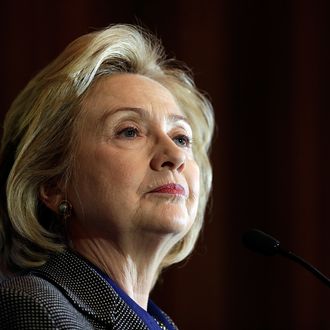 Photo: Win McNamee/2013 Getty Images
Apparently, Hillary Clinton spokesman Philippe Reines believes there is such a thing as a stupid question, and anyone who asks one should be prepared for an unnecessarily aggressive response. During a speech on Monday, Hillary Clinton revealed that she hasn't driven a car since 1996, joking, "I remember it very well. Unfortunately, so does the Secret Service, which is why I haven't driven since then." BuzzFeed's Katherine Miller e-mailed Clinton's team to ask if she has partaken in other activities that have become common in the past twenty years, such as taking money out of an ATM and swiping a MetroCard. "I typically don't respond to BuLLfeed inquiries, but given the extra special inanity BuLLfeed put into today's inquiry, I've answered each of BuLLfeed's inane questions with as much specificity as possible," Reines replied.
In addition to suggesting "BuLLfeed" should include the "exercise in serious journalism" in its Pulitzer Prize submission, Reines offered a joke response to each question, according to screenshots of the exchange published by BuzzFeed. He listed the specific dates and times that she "set up contacts on a phone" and "bought something on the Internet," linking to pictures of a Clinton riding the subway and a pooping cartoon bull.
This isn't the first time Reines has tangled with a BuzzFeed reporter. In 2012, the late Michael Hastings published a nasty e-mail exchange in which Reines called him an "unmitigated asshole" and told him to "fuck off." But in that case, the two were arguing about Benghazi, and Hastings had asked Reines to "give answers that aren't bullshit for a change." One could make the case that discussing Hillary's Facebook usage is a waste of everyone's time, but if Reines is offended by silly questions about his boss's personal life, he should probably save some of that rage for 2016.