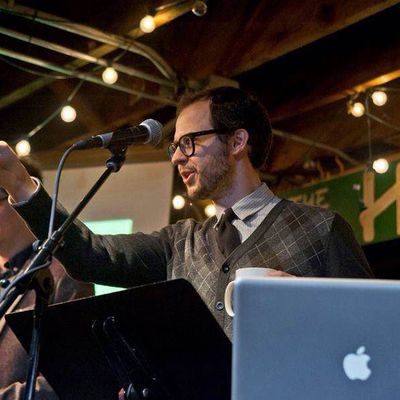 You've probably never heard of Daniel Kibblesmith, a 30-year-old Chicago comedian. He doesn't have an HBO special, he doesn't perform at stand-up at clubs in L.A., and he's never written jokes for Jimmy Kimmel. But Kibblesmith just finished one of the weirdest and most fascinating gigs in the history of American comedy.
Until last Friday, Kibblesmith was an in-house comedian at Groupon, the daily deals site. As the site's senior marketing copywriter, his job was writing many of the quirky deal descriptions the company became known for e-mailing its users. (Like this one, for a dentist visit: "The Tooth Fairy is a burglarizing fetishist specializing in black-market ivory trade, and she must be stopped. Today's Groupon helps keep teeth in mouths and out of the hands of maniacal, winged phantasms.") Kibblesmith joined Groupon in 2009 when it had fewer than 50 employees and was in the front row as it became the fastest-growing company in history, then crashed back to earth. His Groupon stock made him rich, and his jokes helped the company become known for something other than half-off dinner deals.
Kibblesmith left Groupon a week ago, to restart his career as a freelance writer and comedian and promote his book, How to Win at Everything. In an interview yesterday, Kibblesmith — who says he is still prohibited from discussing certain topics, like his compensation, owing to his non-disclosure agreement with Groupon — told me what it was like to do comedy at one of the tech world's weirdest companies.
It started in 2009, when Kibblesmith saw a Craigslist post by Groupon founder Andrew Mason and editorial director Aaron With seeking a freelance humor writer. "They were looking for people who liked Mr. Show and Tim and Eric, and had an edgier comedic sensibility," he says. Kibblesmith wrote a "half-assed" application that consisted of a series of zany, absurdist sketches. "I remember there one joke about a guy who was high out of his mind on some kind of substance, and he needed to have a conversation with his roommate's dog, because he needed to be next to something that didn't hate him," he says. The joke landed, and Kibblesmith got the job. "Apparently, that was the thing that made Andrew Mason say yes, this maniac!"
Once he arrived at Groupon, Kibblesmith was responsible for punching up the company's deal e-mails, to increase the likelihood that customers would open them and buy a deal. Often, this meant filling the e-mails with bogus trivia. If a deal were for cheap pizzas, say, Kibblesmith might put in a section at the bottom about the fictional history of pizza. This freewheeling approach, which was codified in a Groupon style manual in later years, has led to some missteps — most recently, when a goofy Civil War joke landed Groupon in hot water on conservative blogs — but on the whole, the bizarre e-mails helped Groupon stand out from competitors like LivingSocial.
Kibblesmith was also in charge of morale boosters at Groupon's headquarters. One of the oddest requests he got from Mason was for what became "Michael's Room," an empty space that was decorated as a sort of Dadaesque bedroom for an imaginary child named Michael. There were drawers full of mousetraps, a toilet full of Almond Joy bars, and a stationary bike that played Sade's "Smooth Operator" when pedaled. Building this might sound like a fun job. But Kibblesmith says it was a nightmare.
"I pulled an all-nighter where I stayed up ripping open the stomachs of stuffed dogs, filling them with blood packs, and sewing them back up again," he says. "It was by far the most stressful time working there."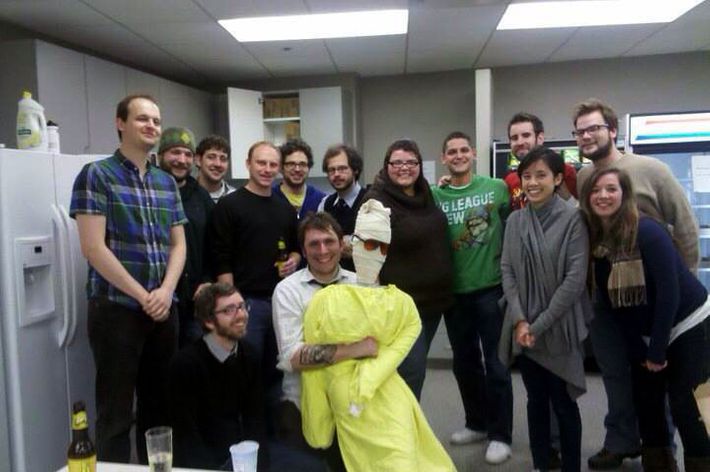 Kibblesmith's apex as a Groupon employee may have been when he went on Bravo's Millionaire Matchmaker as a fill-in for Mason, whom the producers had asked first, but who was engaged. Kibblesmith (who wouldn't specify his net worth except to say, "Well, I was on a show called 'Millionaire Matchmaker'") suffered through a date with a blonde — producing an incredibly awkward kiss scene in the process — and got some needed exposure for Groupon.
In addition to writing quirky e-mails and going on reality shows, Kibblesmith also served as an occasional ghostwriter for CEO Andrew Mason. Once, while trying to deflect a question about a possible acquisition by Google, Mason made an offhand joke to a New York Times reporter about agreeing to an interview only if the reporter asked about "my other passion, building miniature dollhouses." When another reporter, Fortune's Dan Primack, asked Mason if he was serious about his dollhouse hobby, Mason assigned Kibblesmith to write a deadpan response. The statement he came up with — a well-researched, completely made-up set of answers about the craft and sport of miniature-dollhouse-making — never made it past Groupon's gatekeepers, but it became company legend anyway.
Groupon is a business, too, of course. And as the company went public in 2012, Mason and Kibblesmith's shared sense of humor swung from asset to liability. There were accounting missteps and scuffles with regulators, and investors wondered aloud if Mason were mature enough to run a multi-billion-dollar corporation. As Bloomberg Businessweek xput it, Mason "looked like he'd just gotten out of bed and seemed more dedicated to maintaining a comical vibe than running a company."
"It's tough," Kibblesmith now says. "You see the goofy, attention-getting side of Groupon. At the same time, everyone there wants to be successful."
Life as a public company has been decidedly unfunny for Groupon. The company's stock price has risen in the past year, but it's still about half what it was when Groupon went public in 2011. Once a darling of the tech world, the company tends to attract more pity than envy these days. And in February of last year, the board finally fired Mason, who went out with a wry, resigned resignation letter. (Kibblesmith says that, unlike the dollhouse memo, he had no role in Mason's good-bye missive.) New CEO Eric Lefkofsky, by all accounts a more serious person than Mason, has said that morale at Groupon is "dramatically better" under the new, more grown-up leadership.
At one point during our interview, I ask Kibblesmith if he feels responsible, at all, for Groupon's problems — if the zany approach to doing business he'd helped foster in the company's early days had stunted its growth, and made it prone to gaffes and screw-ups.
"That's an obvious question to ask," he says. "Look, the skyrocketing growth of Groupon was due, in no small part, to controversy. But Andrew as a CEO was pretty great at prioritizing the needs of the company and compartmentalizing the humor aspect of it. I can't think of any time when the stuff I was participating in affected anything on the business end."
Kibblesmith remained at Groupon for nearly a year after Mason left, then decided to leave as well. It doesn't seem to have been an acrimonious split. ("Daniel is a great comedic talent and the whole world should get a chance to have Kibblesmith get inside their heads!" wrote Groupon spokesman Paul Taaffe in an e-mail.)
As for what's next, Kibblesmith said he's getting "restless" around his house after a week of unemployment, and is looking to find some odd consulting gigs. He says he hasn't made enough to retire on his Groupon earnings, but that he has "savings comfortable enough that I can do freelance stuff for a while." And he says he's still rooting for the company, even though he's no longer writing its jokes.
"I'm not really tuned in to the business side," he says. "But I certainly watch the news about it as close as everyone else. It appears to be very successful. I don't know whether it's as stratospheric as it was. Maybe it had a halo of weirdness that's not there now."