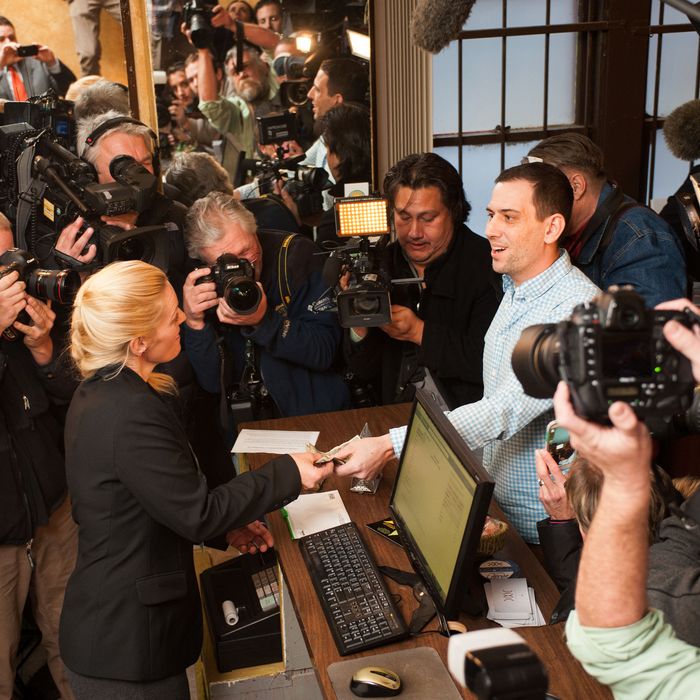 Sean Azzariti casually buys a bag of pot.
Photo: Theo Stroomer/Getty Images
Yesterday was no ordinary New Year's Day: It was Green Wednesday, the first day of legal sales of recreational marijuana in Colorado. Across the state, nearly 40 stores opened their doors to lines of people happily braving the Colorado winter for a chance to buy weed as easily as they would a bag of Funyuns (with a nearly 29 percent tax.) While some local officials had worried that the scene would descend into "cannabis chaos," the day was instead totally chill, if very busy.
"It was a lot more relaxed than I thought it was going to be," said a New York man, Shaun Farrugia, who traveled to Denver for the big day. His friend Dave Adams added, "This is not a ruckus-making crowd."
And while the crowds were full of people eager to share their joy at no longer needing to be sketchy about something they'd been doing for fun since they were teenagers, Colorado's official first buyer, Sean Azzariti, lent some gravity to the process. Azzariti, an Iraq War veteran who uses pot to treat his PTSD, paid $59.74 for 3.5 grams of Bubba Kush at 8 a.m.
"It's an absolute honor. I couldn't be happier," said Azzariti, who looked very happy and respectable as he showed off his receipt to reporters. Of his historic purchase, he said, "I don't even know if I'll ever smoke it. It might just go in a frame on my wall somewhere." After all, he can always get more.