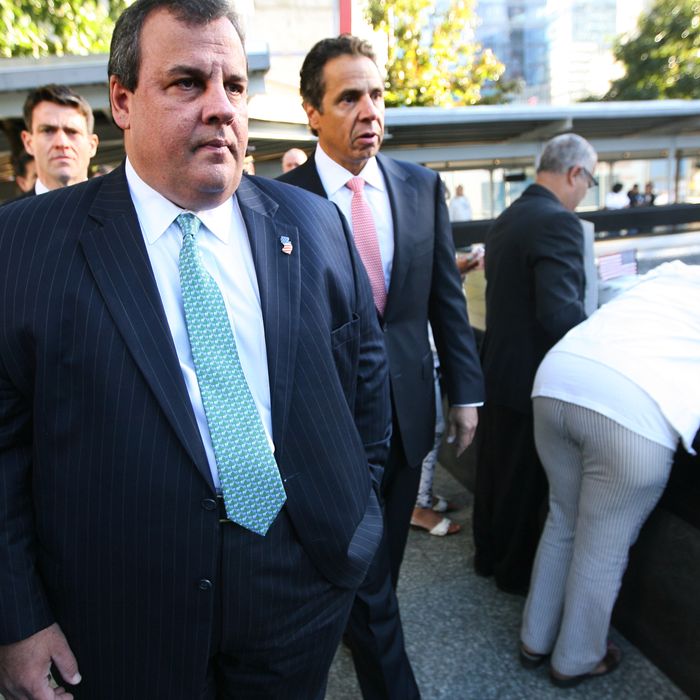 Photo: Chris Pedota/Getty Images
Governor Andrew Cuomo came to Harlem this morning to kick off Reverend Al Sharpton's weekend of Martin Luther King Jr. birthday events, and he said a number of interesting things from the podium of the National Action Network: about the disparities in educational opportunities in rich and poor neighborhoods, about his desire to close prisons. But afterward, on the Lenox Avenue sidewalk, every question asked of Cuomo centered on Bridgegate. And for good reason — this was the first time New York's governor had faced a group of reporters since the scandal hit his Port Authority partner, New Jersey governor Chris Christie, ten days ago. 
Cuomo couldn't dodge the raindrops, but he was nimble in keeping his distance from the expanding political mess. "Everybody wants the same thing. Everybody wants the facts. They want to know what happened. I think Governor Christie made it clear that he is very displeased with what happened," Cuomo said. "And you now have multiple investigations that are ongoing that'll disclose the facts." Cuomo knows that picking a partisan fight now would look gratuitous — not to mention that it's unnecessary, given that Christie's doing a fine job of sinking his 2016 Republican presidential prospects all by himself. And Cuomo is currently occupying the moral and bureaucratic high ground: It was his man at the Port Authority, Pat Foye, who ordered the George Washington Bridge lanes reopened last September, and Foye who blew up the Christie administration's "traffic study" cover story in testimony to the New Jersey legislature. 
The investigations will rightly stay focused on the Jersey side; this morning's MSNBC interview with the mayor of Hoboken, Dawn Zimmer, who charged that the Christie administration withheld federal Sandy rebuilding money to punish her for not backing a real-estate project, opened a potentially ugly new front (though Christie's side vehemently denies the accusation, and last week Zimmer attributed being stiffed to a different political motive). Not that Cuomo will be able to completely escape more questions about what he knew and when he knew it. He runs a tight ship, and his aides rarely freelance on anything of political significance. After the governor spoke today to The Wall Street Journal's Ted Mann, who has done some of the best Bridgegate reporting, tweeted his skepticism: "Amazing that after more than 4 months Cuomo still can't explain why his guy saying the Port broke the law elicited no reaction in Albany." Perhaps the explanation is the simplest one, the one offered by Cuomo's camp: that a traffic jam in New Jersey, even a really big one, just didn't rise to the level of gubernatorial attention. Or maybe it's that Cuomo and his aides were smart enough to not become deeply involved in something this dumb.