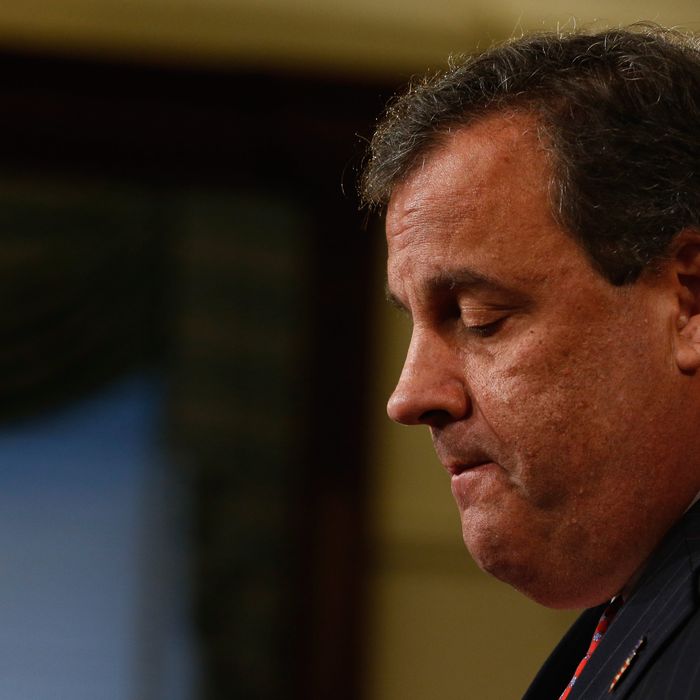 Photo: Jeff Zelevansky/Getty Images
The George Washington Bridge scandal just got much worse for Chris Christie: David Wildstein, the governor's former Port Authority appointee, claims the revenge lane closings were "the Christie administration's order" in a letter from his attorney, according to the New York Times. Furthermore, "evidence exists as well tying Mr. Christie to having knowledge of the lane closures, during the period when the lanes were closed, contrary to what the Governor stated publicly in a two-hour press conference." Uh-oh.
"Mr. Wildstein contests the accuracy of various statements that the Governor made about him and he can prove the inaccuracy of some," the letter continues. (Read the whole thing here.) No evidence, however, has been provided just yet.
Christie, who went to high school with Wildstein, has attempted to put as much distance as possible between himself and his old baseball buddy, telling the press they were never really friends anyway. Whether or not that's true, they most certainly are not anymore.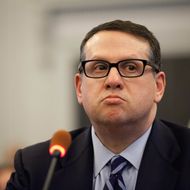 Wildstein, who resigned as the bridge mess was first reaching a boil in early December, was the recipient of then–Deputy Chief of Staff Bridget Kelly's infamous "Time for some traffic in Fort Lee" e-mail. "Got it," he responded. ("Mr. Wildstein instructed me 'do not speak to anyone in Fort Lee,'" the General Manager of the George Washington Bridge, Robert Durando, later testified.)
At his marathon apology press conference, Governor Christie said he was seeing the traffic-jam orders "for the first time," and insisted, "This completely inappropriate and unsanctioned conduct was made without my knowledge." He also claimed to have little contact, and little history, with Wildstein.
"David and I were not friends in high school," said Christie. "We were not even acquaintances in high school. We didn't travel in the same circles in high school. You know, I was the class president and athlete. I don't know what David was doing during that period of time." (In fact, Wildstein was the statistician on the high-school baseball team while Christie played catcher.)
"I have had no contact with David Wildstein in a long time, a long time, well before the [November 2013] election," Christie added. (Days later, The Wall Street Journal published a photo of the pair together in September.) "You know, I could probably count on one hand the number of conversations I've had with David since he worked at the Port Authority," the governor insisted. "I did not interact with David."
Update: In a statement Friday evening, Team Christie denies the implications of the Wildstein letter:
"Mr. Wildstein's lawyer confirms what the Governor has said all along — he had absolutely no prior knowledge of the lane closures before they happened and whatever Mr. Wildstein's motivations were for closing them to begin with. As the Governor said in a December 13th press conference, he only first learned lanes were closed when it was reported by the press and as he said in his January 9th press conference, had no indication that this was anything other than a traffic study until he read otherwise the morning of January 8th. The governor denies Mr. Wildstein's lawyer's other assertions."
This post has been updated throughout.