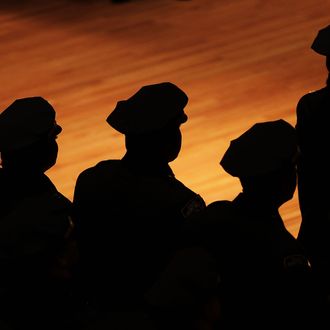 Photo: Spencer Platt/Spencer Platt/Getty Images
Mayor Bill de Blasio moved to end his inherited court battle over stop-and-frisk today, as he said he would, filing paperwork to drop the appeal. Last year, a judge ruled that the police tactic discriminated on the basis of race and ordered the appointment of a federal monitor to push reforms. Instead of Michael Bloomberg's all-out rejection, the new administration announced a deal with the plaintiffs.
According to the agreement, announced today by Mayor De Blasio and Police Commissioner Bill Bratton in Brownsville, Brooklyn, "ground zero" of the stop-and-frisk fight, the court-appointed monitor will serve a three-year term. The deal must be accepted by the District Court, at which point the De Blasio administration will officially drop the city's appeal.
"We will not break the law to enforce the law," said Bratton in a statement. "That's my solemn promise to every New Yorker, regardless of where they were born, where they live, or what they look like."
"This is a defining moment in our history," said Mayor De Blasio. "It's a defining moment for millions of our families, especially those with young men of color. And it will lay the foundation for not only keeping us the safest big city in America, but making us safer still. This will be one city, where everyone's rights are respected, and where police and community stand together to confront violence."
While the legal fight was being waged, the number of stops was already dropping dramatically. In 2013, the NYPD recorded fewer than 200,000, compared to 694,000 in 2011. "Clearly it is in decline and I believe that is a good thing," said Bratton earlier this month. "Stop and frisk has been stopped in some neighborhoods altogether."
This post has been updated throughout.