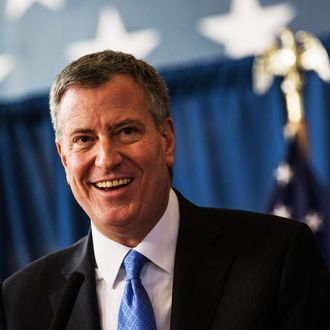 Photo: Andrew Burton/Getty Images
"Who could forget Hot 97?" said Bill de Blasio this morning on New York's legendary rap station. "Who could forget such humble, lovable hosts?" The new mayor was making his second casual appearance on Hot 97's morning show with Peter Rosenberg and program director Ebro Darden — his first, as a candidate, earned him an endorsement. And in case the change in tone and audience wasn't clear enough already: There is no record of Michael Bloomberg ever appearing on the station (he preferred the likes of John Gambling).
Now in charge, Mayor De Blasio faced sharp, relevant questions on pedestrian deaths, the policing of young people, minimum wage, and marijuana legalization. Citing the previously "astounding number of stop-and-frisks," 97 percent of which turned up nothing, De Blasio said, "Take all that time and energy and focus it on actual criminals." "That's right," said Darden, adding later, "If you wanna get crime down, give people a purpose, give them a job."
The best moments mixed the serious subject matter with the station's unadjusted vernacular. "You just took a couple of shots at Albany," said Darden at one point, inquiring about the mayor's relationship with Governor Andrew Cuomo. At De Blasio's mention of his son Dante, both hosts exclaimed, "Afro son! Afro soooon!!"
De Blasio fit right in. "I always favor the underdog," he said when asked about the Super Bowl. "I love what Seattle does. I like Seattle." As for the planning, he said, "I'll even give a compliment to New Jersey."
But he wasn't going to get out of there without coming off at least a little bit square. "Will I ever be able to go to the bodega and get me some herb?" asked Darden in closing. "I don't think that's happening anytime soon. I'm sorry to let you down," said De Blasio. "You're doing so many great things, I can let this slide," Darden responded. "I'll continue to… never mind." Then the D.J. played the mayor off with a song about weed.
Finally the herbs come around
The high grade when me a look for
Me get it by the pound, yeah
When Collie Bud come around
A pure ganja man tune