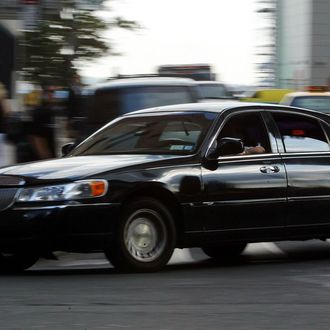 Photo: Chris Hondros/Getty Images
The taxi wars have been raging in New York for years. Today, it's the private car services' time to fight among each other.
Uber competitor Gett — which provides black-car services at a flat rate in New York City — accused more than a dozen New York employees of the car-hailing giant of deliberately sabotaging its app by requesting, and then canceling, more than a hundred Gett rides.
TechCrunch reports that what Gett is calling "a denial-of-service attack" was carried out by members of Uber's New York team over a three-day period last week. According to Gett, the Uber employees would hail a Gett car, wait until it had nearly arrived, and then cancel their order, tying up drivers and preventing legitimate customers from getting rides. Then, after ditching the rides, Uber would try to poach the disgruntled Gett drivers:
Once they requested a Gett car, the Uber employees would have access to the driver's number. On Tuesday, one of these Uber employees then texted as many of the drivers as they could, attempting to recruit them into the fold. In copies of the text shared with TechCrunch by Gett, the Uber employee offered Gett drivers money to come over to their camp — not unlike the methods they've previously used on mustachioed competitor, Lyft.
An Uber spokesman, Andrew Noyes, confirmed to Daily Intelligencer that the requests and cancellations were, in fact, carried out by members of Uber's New York team. "Our local teams can be pretty determined when spreading the word about Uber and how our platform opens up new economic opportunities for drivers," Noyes said in a statement. "It was likely too aggressive a sales tactic and we regret the team's approach to outreach of these drivers." Noyes added that the New York team had been told to "curtail" its aggressive conduct, and said that the fake rides had been canceled immediately, not resulting in any lost time for Gett drivers.
It's been a rough winter for Uber. The company's "surge pricing" tactic, in which it raises rates during peak demand times, drew tons of controversy when snowstorms and holidays resulted in ultra-expensive rides for some passengers. And new accusations of corporate sabotage won't help matters. Amid the surge-pricing controversy, Uber CEO Travis Kalanick defended the policy on the basis that it was worth charging more for rides during high-demand times "even to our detriment in the public sphere." Now, Uber will have to explain to the public sphere how its aggressive tactics aren't tantamount to bullying.