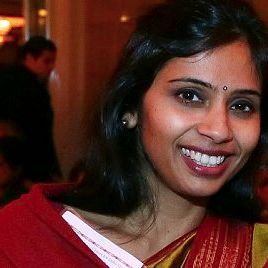 Khobragade.
Photo: ? Copyright 2014 Corbis
Back in December, Devyani Khobragade, India's deputy consul general in New York, was arrested on charges that she'd lied on a visa application for a housekeeper she'd brought to the United States from India. Khobragade was supposed to pay the worker, Sangeeta Richard, about $10 per hour, but prosecutors said Richard ended up working as many as 109 hours a week for $3.31 per hour. The arrest sparked outrage in India — not because of the poor treatment of Richard, but because Khobragade was subjected to a customary strip search* when she was taken into custody.
Khobragade was released on $250,000 bail and John Kerry eventually contacted his Indian counterparts to apologize. However, Indian officials remained angry about the incident and took measures to make life for American diplomats in India uncomfortable, such as removing security barriers around the United States embassy in New Delhi, rescinding food and alcohol importing privileges, and opening embassy cars up to traffic fines. Additionally, India transferred Khobragade, who had limited immunity when she was arrested, to another New York–based position that would grant her full immunity.
U.S. attorney Preet Bharara continued to pursue the case. On Thursday, Khobragade was indicted for visa fraud, making false statements, and attempting to "silence and intimidate the victim and her family and lie to Indian authorities and courts." The State Department asked India to waive her new immunity so she could be prosecuted, but they refused. So, the United States told her to leave the country and return to India, which she did Thursday night. "[Khobragade] is pleased to be returning to her country," said her lawyer. "Her head is held high. She knows she has done no wrong and she looks forward to assuring that the truth is known." Her American husband and two children are still in New York, but they are expected to join her soon.
* Though Indian officials claimed that Khobragade had been given a cavity search when she was arrested, the U.S. Marshals Service later said that she was only strip-searched.