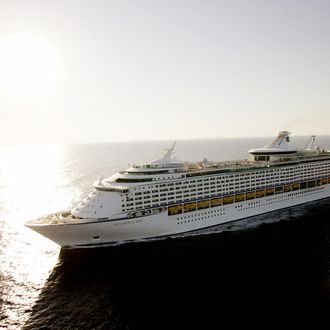 Photo: ROBERTO SCHMIDT/AFP/Getty Images
The latest cruise-ship debacle on the high seas ends right here in the tri-state, as Royal Caribbean's Explorer of the Seas moored in Bayonne on Wednesday after cutting short its latest cruise when some 700 passengers and crew got sick. Doctors haven't officially diagnosed the illness that spread throughout the ship, but the symptoms are consistent with norovirus. As CNN discovered, the ship has a less than stellar record, with two previous norovirus outbreaks recorded by the CDC in 2006. "That wins Explorer of the Seas the distinction of being the cruise ship with the highest number of sick people in 20 years." And now its disgorging its vomiting, diarrhea-stricken passengers into New Jersey. 
The CDC recommended that passengers still showing symptoms be housed in hotels near the dock or given medical attention before heading home, NBC New York reported. One woman who spoke with CNN was not taking that plan very well: "We're all going to hotels all over the New York area. Will we be spreading the virus to the Super Bowl this weekend?" Perhaps we can excuse her for being distraught. The cruise sounds absolutely disgusting. "There were people walking around in their pajamas with vomit and diarrhea on them. People were barfing all over the place," she told CNN.
On the plus side, once they get this ship disinfected, cruises on it will probably be an absolute bargain.