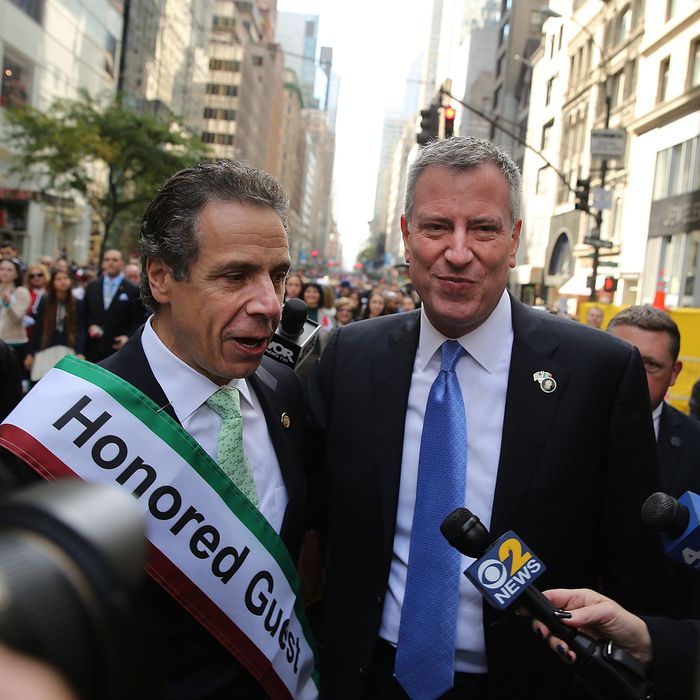 Happier times.
Photo: Spencer Platt/2013 Getty Images
On the weekend before his January 8 State of the State speech, Governor Andrew Cuomo had a phone chat with Mayor Bill de Blasio. The governor was developing a plan to expand prekindergarten statewide — and to pay for it out of existing revenues. Cuomo saw it was a win for everybody: The mayor would fulfill his campaign promise to create universal pre-K and the governor would hold the line on taxes. De Blasio, though, wasn't budging — only a tax increase on the city's wealthiest would deliver enough money, and supply it reliably.
Today the debate is becoming more public, and more pointed. This afternoon, Cuomo is unveiling a $1.5 billion plan that he says will provide all of New York's children greater access to pre-K and after-school programs. Cuomo's decision not to spell out the proposal early this month was smart, tactically: Instead of having the jockeying with De Blasio gobble up media space, Cuomo got the largely positive State of the State rollout he wanted, with plenty of attention, particularly upstate, being devoted to his plans for economic development. Then came the latest Siena College poll, which was in line with Cuomo's internal polling, showing the governor with a dominant 66 percent job-approval rating. More relevant to the pre-K debate was that Cuomo scored fairly well with liberal New Yorkers. On the other side of the aisle, the Trump-for-governor farce has highlighted the weakness of the state's Republican Party as Cuomo ramps up his reelection campaign. All of which reinforced the governor's longstanding belief, philosophically and politically, that the center is the best place for him to be: He scores progressive points by pushing for pre-K while at the same time buttressing his "pragmatic" credentials by funding it through the state budget.
"Cuomo really doesn't mind if De Blasio is running around saying, 'Let's raise taxes!'" an Albany insider says. "De Blasio is being treated as a rock star in the city, but his brand of lefty stuff is absurd statewide. Cuomo isn't trying to insult him, but he doesn't want to be associated with raising taxes in an election year. Simple as that. He's not going to be faced with a challenge on the left, and he's trying to recapture some people who were disaffected on the right." Here's where Cuomo's seemingly unrelated jab at "extreme conservatives" may come into play: He doesn't want to chase anyone out of the state, but he is signaling to moderate Republican lawmakers that they're better off siding with Cuomo than Carl Paladino or state Conservative Party boss Mike Long.
De Blasio is showing no signs of retreat. "The people of this city have entrusted me with a mission," he said in a press conference just now. "I have a mandate from the people to pursue this plan." Yesterday, his pre-K lobbying effort signed up one of Cuomo's biggest donors. And a source close to City Hall claims that today's move by Cuomo proves the momentum is in fact with the mayor — because Cuomo, in reaction to De Blasio's electoral victory, has drastically dialed up his pre-K plan from the $25 million pilot program the governor was talking about last year. De Blasio will stick firmly to his argument that Cuomo's new proposal, for all of its large numbers, is nevertheless underfunded and that its financing is unstable.
The governor's side will push back, claiming De Blasio is insisting on a tax increase to help satisfy the teachers union's hunger for raises. Ultimately the maneuvering may come down to who can best navigate the three-headed state Senate. De Blasio has the support of the regular Dems, and he seems to have lined up the backing of Jeff Klein, the leader of the Senate's rump Independent Democratic Conference. The swing votes could be a handful of Long Island Republican senators. Property taxes are the highest priority for Dean Skelos, the Senate co-majority leader, and his suburban caucus, but Cuomo is betting that the Republicans don't want responsibility for any kind of tax increase, even on city-dwelling rich people. De Blasio's camp believes it can leverage the Republican's slim hold on Senate leadership to argue that allowing the city to tax itself will free up state money for other suburban needs. All this may not be as entertaining as a Fort Lee traffic-jam scandal, but the next few weeks of New York politics should be plenty interesting.