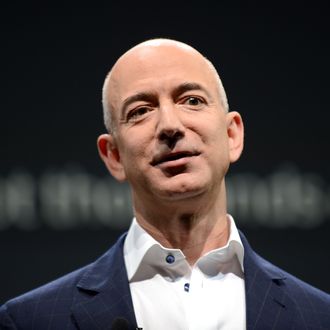 Jeff Bezos, CEO of AMAZON, introduces new Kindle Fire HD Family and Kindle Paper white during the AMAZON press conference on September 06, 2012 in Santa Monica, California.
Photo: Joe Klamar/AFP/Getty Images
The Amazon founder and Washington Post owner was reportedly evacuated via helicopter from his vacation cruise around the Galapagos Islands because he was suffering from "severe" kidney stones. He then took a private plane back to the United States for emergency surgery. ("Galapagos: five stars," Bezos told Business Insider, which he invests in. "Kidney stones: zero stars.") A translated press release from the Ecuadorian navy announced that "Crewmembers of the helicopter, received messages of thanks from the families and close collaborators of the businessman with worldwide fame for the timely action and demonstrated professionalism." Whether they'd go to that kind of effort for a person without worldwide fame — or billions of dollars — is unclear, but our guess is no.