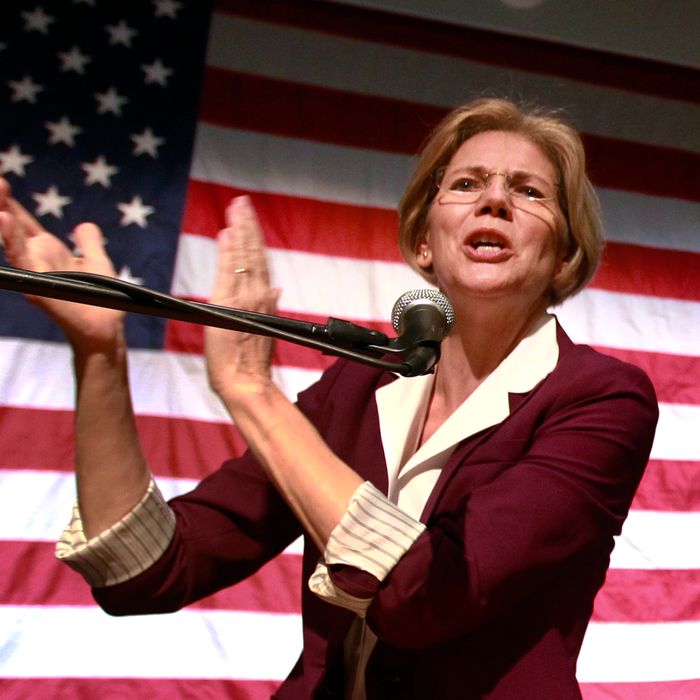 Senator Elizabeth Warren brought her Oklahoma drawl and signature anti–Wall Street zeal to a crowded St. Peter's Church in midtown Manhattan Thursday night, her first public appearance in the five boroughs since emerging as a national liberal darling in the aftermath of the financial crisis.
The event was organized by a hodgepodge of the city's lefty activist groups to showcase the hunger in the progressive grassroots for politicians who aggressively take on income inequality, and specifically to put pressure on lawmakers in Albany to pass new campaign finance reforms that might restrict the influence of big money on state elections. New York State Attorney General Eric Schneiderman, who has alternately clashed and made nice with his "friend" Governor Andrew Cuomo over how to divvy up $613 million in spoils from a shady mortgage practices settlement with JP Morgan, introduced Warren, and though he was careful to praise Cuomo for including campaign finance in his annual budget proposal this week, one could not help but think how out of place the governor would have been had he actually been present.

"Inequality is the greatest crisis facing America today," Schneiderman said. "Inequality is the greatest crisis facing the United States of America today," he repeated. "Once you get that, everything else flows."

Cuomo, it is worth noting, did not address the nation's wealth gap in his budget push on Tuesday. And while all of the speakers, from freshly minted public advocate Letitia James to The Nation's editor Katrina vanden Heuvel, avoided taking direct jabs at the governor (who is distrusted by many progressives for a laserlike focus on cutting taxes and balancing the budget), his brand of neoliberalism served as a foil for the assembled progressive horde.
"Most Democratic politicians are afraid to even speak about economic inequality," Schneiderman said, suggesting they were terrified of "being labeled a Sandinista" (as De Blasio was tagged in a Times profile last year) "or an eyeliner-wearer" (Cuomo has apparently been asking people if Schneiderman wears the stuff).
The speakers were decidedly more psyched about Gotham's new mayor, Bill de Blasio.

"The mayor is saying we're going to have universal preschool, here, in New York. Yes!" Warren exclaimed, pumping her fist skyward as she stood at the lectern.
If the goal was to use Warren's star power to get local activists fired up about campaign finance reform, the event was a success. The senator was strictly business, however; as soon as she finished speaking, Warren ducked out the back of the room, shook a few hands, and made her way out to the street, intent on getting this initial foray into New York's hard-nosed political scene on the books safely.