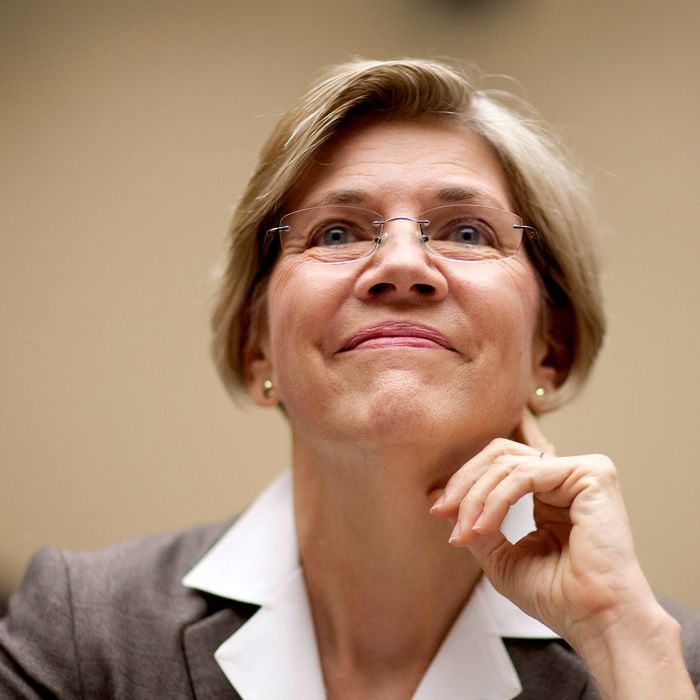 Photo: Joshua Roberts/Bloomberg
Speaking to a crowd of liberal New Yorkers just before Elizabeth Warren is kind of like opening for the Beatles on Ed Sullivan. Eric Schneiderman doesn't mind, though. "Senator Warren talks about very complicated matters of corporate law or economic policy in a completely down-to-earth way," he says. "She's a transformational leader, so it's an honor to have her here to support our efforts."
Tonight, New York State's attorney general will take the microphone at St. Peter's Church in midtown ahead of the national progressive superstar and Massachusetts senator. The Democratic pair will be rallying the good government troops to push for an expansion of New York's public financing of campaigns. Warren will spell out what she sees as the connection between big money's dominance of elections and the rise of income inequality. Schneiderman will detail how he believes New York can set an example that will help beat back the right wing nationally.
"New York is really the epicenter of this battle," he says, "because we have the opportunity to transform our campaign finance system." That's because earlier this week Governor Andrew Cuomo put public campaign financing into his state budget proposal — forging some rare common ground with Schneiderman, with whom he's lately been fighting over hundreds of millions of dollars in JP Morgan mortgage settlement cash.
"The fact that the [public campaign finance] coalition was powerful enough to get the language included in the budget was a huge breakthrough," Schneiderman says. "It's much more powerful than introducing a stand-alone bill. There's no reason for it not to happen this year."
Perhaps. Cuomo is certainly conscious of burnishing his liberal credentials during an election year, but he has also been careful to stay on good terms with State Senate Republicans, who oppose handing candidates more taxpayer dollars. In the meantime, the governor is playing by the current rules and keeping his campaign account well-stuffed: As Warren and Schneiderman talk tonight, Cuomo, coincidentally, will be in Los Angeles for a fund-raiser with a top ticket price of $50,000.