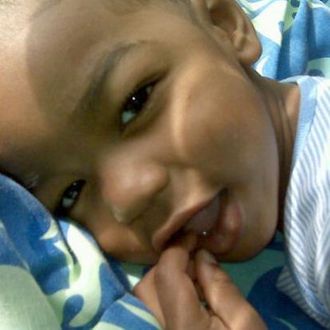 A New Jersey judge has temporarily released 37-year-old Okee Wade from jail so he can bury his son Myls Dobson, the 4-year-old who died in Manhattan last week while in a babysitter's care. In exchange for Wade pleading guilty to second-degree racketeering, Judge Michael A. Donio agreed to release him for 21 days. "You're a father and you have a 4-year-old that is dead, and I think you have a right and duty to give the child a proper burial and for you to properly be able to say goodbye," the judge said. Prosecutors will recommend a five-year sentence, but the judge warned that if he fails to turn himself in on Feb. 6 he'll face the maximum twenty years.
Outside Atlantic County Jail on Thursday night, Wade denied that he knew Kryzie King, the 27-year-old accused of burning, freezing, beating, and starving the boy in the weeks prior to his death. He claimed he left Myls with a friend named Jay Monroe on Dec. 18 while he went to work. He says after his arrest he tried to arrange for his girlfriend to watch Myls, but was unable to reach anyone by phone. According to DNAinfo, Wade later admitted that King and Monroe may be the same person. 
"I felt he was in reasonable care," Wade said. "I just can't understand why anyone would kill a 4-year-old boy who was a very sweet and intelligent boy."
Myls's mother Ashlee Dobson, who lost custody after she was accused of neglect, claimed his body on Wednesday. Rev. Al Sharpton will deliver the eulogy at Myls's funeral on Tuesday at First Corinthian Baptist Church in Harlem. King has been charged with first-degree assault, first-degree reckless endangerment, endangering the welfare of a child, and unlawful imprisonment, and is also being investigated on suspicion of murder.