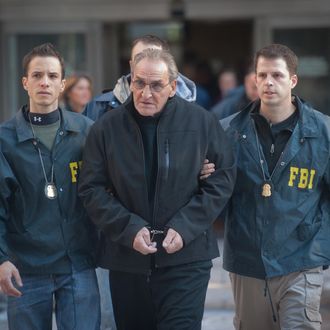 Photo: Bryan Smith/ZUMAPRESS.com/Corbis
One of the key plotlines in the movie Goodfellas centers around the real-life 1978 heist of a Lufthansa cargo building at JFK, in which mafia-backed robbers stole $5 million in cash and $1 million in jewels. Until Thursday, only one person had ever been prosecuted in the case: Louis Werner, the airport employee who served as an "inside man." Just about every other person the feds sought turned up dead or missing. But on Thursday, police finally arrested a real live alleged mafioso for the caper. Vincent "Vinny" Asaro, 78, an alleged Bonnano captain, was among five men allegedly linked to the Bonanno crime family, whom police rounded up in raids early Thursday.
In the book Wiseguy, on which Goodfellas was based, the main character Henry Hill (played by Ray Liotta in the film) describes Asaro as "the Bonanno family's crew chief out at the airport," The Wall Street Journal notes. But the indictment does not stop with the airport heist. It also accuses Asaro of two murders, including one in 1969 in which Asaro and James "Jimmy the Gent" Burke strangled a suspected stool pigeon named Paul Katz with a dog chain. Robert De Niro's character in the movie, Jimmy Conway, was based on Burke.
The five men arrested are due to be arraigned at some point later on Thursday. If there's one lesson to take away from all this, it's that we should really rewatch Goodfellas before this case goes any further.