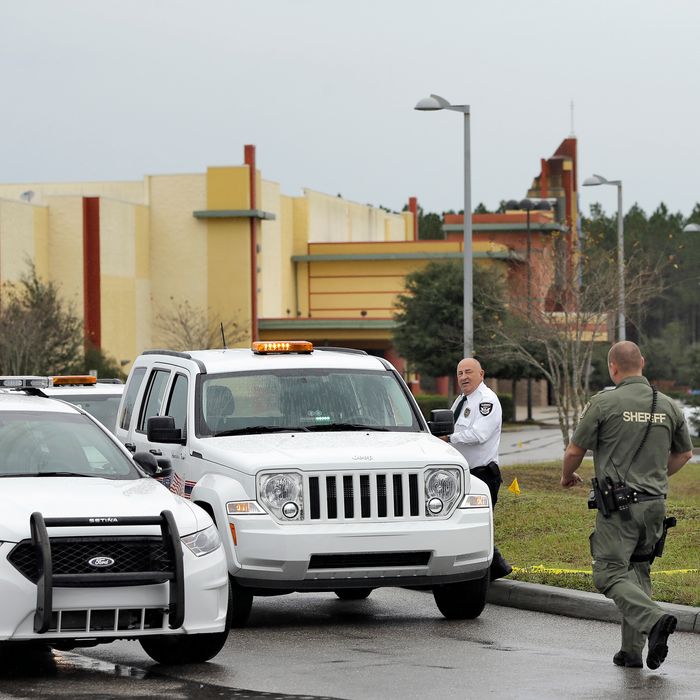 Law enforcement officers block the driveway to the Cobb theater in Wesley Chapel on Jan. 14, 2014.
Photo: Chris O'Meara
The retired police officer accused of killing another man in a fight over texting in a movie theater said on Tuesday that he was "in fear of being attacked" when he fired his .380-caliber semiautomatic handgun, according to an arrest affidavit. Curtis Reeves, the 71-year-old charged with second-degree murder, told detectives he grabbed his gun after 43-year-old Chad Oulson stood up and hit him in the face with an unknown object. Witnesses say Oulson only threw a bag of popcorn. "The alleged victim attacked him," Reeves's attorney, Richard Escobar, argued in court on Tuesday. "At that point in time he has every right to defend himself." Judge Lynn Tepper responded that throwing "an unknown object does not equal taking out a gun," and ordered that he be held without bond.
Local authorities made it clear that they don't believe Florida's Stand Your Ground law applies in this case, but lawyers told the Tampa Bay Times that Reeves may pursue that defense. While details are still emerging in the case, Stetson Law professor Charles Rose told the paper there are several factors that could be relevant if Reeves claims he was standing his ground, including whether he believed throwing popcorn was part of an escalating response from Oulson or didn't think he could physically defend himself against a younger man. Reeves's experience in law enforcement could be used as evidence that he should have known better, or to support his judgement that deadly force was warranted.
"Here's the problem: We're trying to look into the mind of the defendant and posit what he thought was happening," Rose said. "That's often why these cases go trial — because you just can't tell." And even when people think they know the answer, Florida's legal system might surprise them.