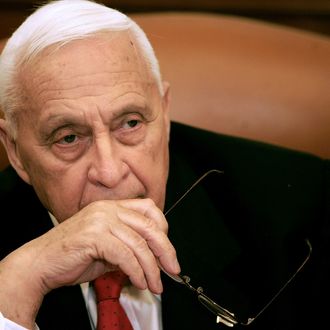 Photo: ELIANA APONTE/2010 AFP
Ariel Sharon, one of the most influential and polarizing figures in Israeli history, died on Saturday in a hospital near Tel Aviv. He had been in a vegetative state since suffering a massive stroke in 2006. In his roles as a soldier, general, defense minister, and, finally, prime minister, Sharon fought or commanded troops in all of Israel's wars for over 50 years. He gained a reputation as a stubborn, aggressive, often daring fighter over the course of the fifties and sixties before turning to politics in the seventies. In 1983, he was forced to resign from his role as defense minister after he was found to be "indirectly responsible" for the massacres in Sabra and Shatila, two Palestinian refugee camps in West Beirut where hundreds of civilians were killed by Lebanese Christian militia* during Israel's invasion of Lebanon.
Sharon's career survived his resignation, and he remained active in the political world. In 1999, he took control of the right-wing Likud Party, and he was elected prime minister in 2001. Long known for his "harsh tactics" as "an architect of Israeli settlements in the occupied lands," he surprised his followers and the world with a change in strategy prompted by his recognition of "the inevitability of Palestinian statehood." From the New York Times:
Israeli settlers, who had seen him as their patron, considered him an enemy after he won re-election in 2003. In addition to withdrawing from Gaza and a small portion of the West Bank, he completed part of a 450-mile barrier along and through parts of the West Bank — a barrier he had originally opposed. It not only reduced infiltration by militants into Israel but also provided the outline of a border with a future Palestinian state, albeit one he envisioned as having limited sovereignty.

Before becoming ill, Mr. Sharon was said to have been planning further withdrawals of Jewish settlers and troops from Palestinian lands in hopes of fulfilling the central goal of his life: ensuring a viable and strong state for the Jewish people in their historic homeland.
President Obama, who never met Sharon, issued a careful statement that mostly avoided the controversial legacy of the man who "dedicated his life to the State of Israel." After extending his "deepest condolences," Obama, "[Reaffirmed] our unshakable commitment to Israel's security and our appreciation for the enduring friendship between our two countries and our two peoples. We continue to strive for lasting peace and security for the people of Israel, including through our commitment to the goal of two states living side-by-side in peace and security. As Israel says goodbye to Prime Minister Sharon, we join with the Israeli people in honoring his commitment to his country."
Correction: This story originally said, incorrectly, that the civilians were killed by Israeli soldiers.