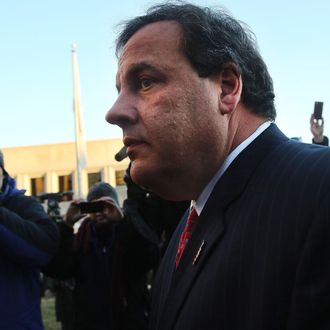 Christie visits Fort Lee to apologize to Sokolich on January 9, 2014.
Photo: Spencer Platt/2014 Getty Images
As the media delved into the New Jersey political world in the past week, Fort Lee Mayor Mark Sokolich came off as one of the least shady figures involved. But apparently even he isn't immune to lapses in memory about September's George Washington Bridge lane closure. Last week Sokolich told CNN's Wolf Blitzer he was confused by the presumed act of retaliation because Chris Christie hadn't been pushing hard for his political backing. "I don't recall a specific request to endorse," said Sokolich. However, the Democratic mayor now recalls that he was visited by a staffer from the Republican governor's reelection campaign last spring. "I said, 'Yes, I'll consider it, because I'll consider anything,'" Sokolich tells the New York Times.
A "person familiar with the conversations" tells The Wall Street Journal that the staffer who approached Sokolich was Matt Mowers, the campaign's regional political director. The Journal writes that he indicated "an endorsement would be welcome." Sokolich suggested last week that he was aware Christie would like an endorsement – he told CNN, "The events that led up to all of this I guess you can interpret to be somehow attracting me to endorse" – but it appears the request and his response became less hazy in the past few days.
While some New Jersey officials say they experienced no consequences after turning down the campaign's endorsement requests, the Journal reports Sokolich wasn't the only one who feared he was being punished. Jersey City's Democratic mayor Steve Fulop says he was offered increased access to state commissioners, but when he decided not to endorse Christie, meetings with those officials were canceled within an hour. Fulop says that "nearly every single meeting we have requested with state commissioners with regard to proactive Jersey City issues has been unfortunately rejected over the last six months, along with countless requests we made to the Port Authority."
It seems the Jersey City mayor was right to be suspicious, since his name came up in e-mails from Christie allies released last week. One said of Sokolich's pleas for help with the traffic jam, "His name comes right after mayor Fulop."
Democratic Hoboken mayor Dawn Zimmer also said she was uncomfortable during a February meeting when Christie, after a conversation about securing federal aid for Hurricane Sandy victims, transitioned into an endorsement request. "It was not that easy to tell him no," Zimmer said.
It all makes Christie's quest for endorsements sound a bit questionable, though it's still possible the bridge closure was a totally unrelated act of political retaliation.