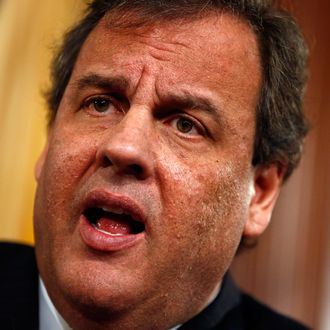 Man's man.
Photo: Jeff Zelevansky/Getty Images
As we enter week two of the New Jersey bridge-clogging saga, Chris Christie's defenders have found their footing. A club that started with just Rudy Giuliani and John McCain has now added much of the Fox News roster, all of whom would like to remind Democrats whining about traffic retribution of a little thing called Benghazi. "You'll notice we haven't been hearing a lot from the Clinton camp about this," said Karl Rove on Fox News yesterday. "The contrast with President Clinton and Secretary Clinton's handling of Benghazi. So I think it's going to be hard for Democrats to turn this into an issue." (On the subject of Christie's 111-minute press conference, Reince Priebus added, "Now only if Barack Obama and Hillary Clinton would give us 111 seconds of that would we find out some things we want to find out about Obamacare, Benghazi, the IRS.")
But Brit Hume took the widest view of all: Attacks against Christie, he offered, are part of the larger War on Men.
"In this sort of feminized atmosphere in which we exist today, guys who are masculine and muscular like that in their private conduct, and kind of old-fashioned tough guys, run some risks," said Hume on Howard Kurtz's show Media Buzz.
"Feminized?" asked feminine co-host Lauren Ashburn.
"Atmosphere," confirmed Hume. "By which I mean: Men today have learned the lesson the hard way that if you act like kind of an old-fashioned guy's guy, you're in constant danger of slipping out and saying something that's going to get you in trouble and make you look like a sexist or make you look like you seem thuggish or whatever. That's the atmosphere in which he operates. This guy is very much an old-fashioned, masculine, muscular guy, and there are political risks associated with that. Maybe it shouldn't be, but that's how it is."
"We're so used to blow-dried candidates right now," Ashburn admitted. What this country needs is more blowhards.