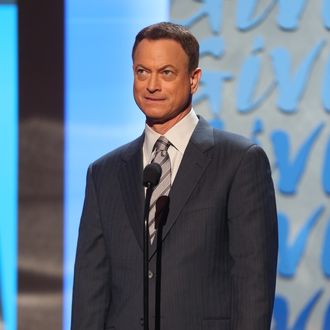 Gary Sinise.
Photo: Frederick M. Brown/2012 Getty Images
Hollywood types aren't known for keeping their political views to themselves, but you probably haven't heard of Friends of Abe (as in Lincoln), a group of about 1,500 conservatives who work in the entertainment industry. With a few notable exceptions – including Gary Sinise, Jon Voight, and Kelsey Grammer – members don't tend to identify themselves publicly, and cameras are banned at group events. Since it's so passionate about protecting members' privacy, Friends of Abe is probably livid that their application for tax-exempt status has resulted in an IRS review, and now a front-page profile in the New York Times.
The group, which grew out of an e-mail list about nine years ago, has been under review for about two years after applying to be a 501(c)(3) organization. The classification is more strict than that sought by most of the groups involved in last year's IRS scandal, as it forbids any kind of partisan activity.
Sources tell the Times that the IRS is seeking more information on the group's meetings with political figures such as John Boehner, Paul Ryan, Michele Bachmann, Ann Coulter, and Karl Rove. Officials specifically asked why a speech introducing Herman Cain when he was running for president shouldn't count as campaign activity.
In addition to attending events, members can log on to a security-protected website. At one point, the IRS asked for greater access to the site, but Friends of Abe refused, as it would have revealed their membership list. The group is concerned that if their names get out they could be blacklisted by liberals in the industry – though if Hollywood can get over the Clint Eastwood empty chair incident, they probably don't have anything to worry about.