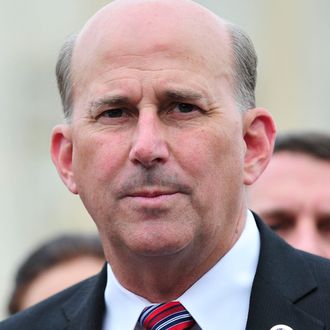 Photo: Ron Sachs/(C)2010 Ron Sachs Consolidated News Photos All Rights Reserved
Sure, a lot of conservative lawmakers claim to hate Obamacare, but only Texas representative Louie Gohmert is brave enough to risk his own financial security and health to protest the law. In a recent radio interview, Gohmert explained that he's decided to go without health insurance in 2014 because the Affordable Care Act made coverage too expensive. "I lost my health care. I liked it OK, but I didn't get to keep it," he said. "I couldn't afford to go up four or five times what I was paying and double my deductible, and so I'm better off with just setting money aside for health care and paying the penalty." He is almost certainly wrong.
Gohmert claimed that an Obamacare plan would have raised his deductible from $3,000 to $6,000 and his premium payments from "$300 to about $1,500 a month." However, he declined to factor in the $950 monthly employer subsidy he is eligible for as a congressman, which would have put his premiums at something closer to $600. Gohmert is 60 years old — an age when pretty much everyone starts to run up against increasingly expensive health problems — with an annual salary of $174,000, and $162,000 in debt.
Like everyone in Congress, he can get free outpatient care at a number of Washington's military hospitals and "routine exams and limited diagnostic tests at the Office of the Attending Physician" for $576 a year. But Gohmert is on his own for inpatient care and anything that happens outside of D.C.: A joint replacement at Mother Frances Hospital in his hometown of Tyler, Texas, costs $49,588; admission for chest pains would set him back $23,671. Most people in his situation — and many other situations! — would conclude that living without health insurance is an unnecessary and dangerous gamble. Of course, Gohmert doesn't have much appreciation for modern conveniences.