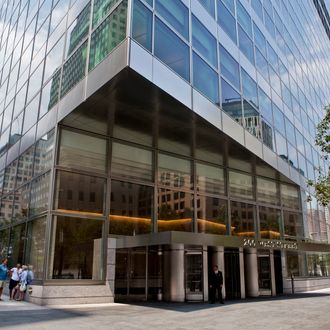 Panic at 200 West Street!
Photo: Bloomberg/2010 Bloomberg
Well, the proposal worked. Straight to Hell, a collection of "true tales of deviance and excess" written by pseudonymous Wall Street Twitter account Goldman Sachs Elevator, has landed a book deal.
A person familiar with the deal told Daily Intelligencer that, in the end, five publishers placed bids on @GSElevator's book. The bid that won out, from Simon & Schuster, included an advance in the "mid-six figures," according to the source. That's a lot less than the $1.5 million Goldman turncoat Greg Smith reportedly got for his tell-all, but it's still a tidy sum for a first-time author.
The book is scheduled to arrive in October. Goldman Sachs declined to comment.