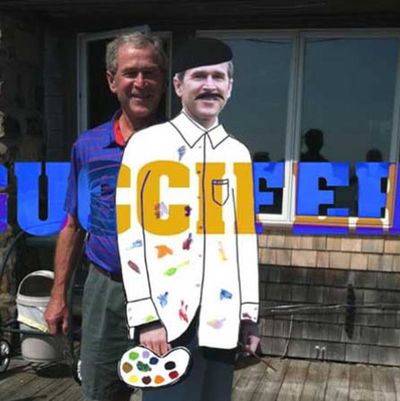 Thanks for the memories.
Photo: Guccifer/The Smoking Gun
Clad in a camo hat, cool black shades, and an "Authentic Vintage Clothing" tee, the man who (allegedly) introduced the world to George W. Bush's most intimate paintings was finally introduced to the world. Meet Marcel Lazar Lehel, arrested last night in Romania and accused of being the reigning hacker of the rich and the famous, known as Guccifer. Rather than trade in military secrets or credit-card numbers, Guccifer's currency was gossip about the world elite, stolen directly from their poorly protected e-mail accounts, probably just by guessing the password. His victims, while all important ("Illuminati" or "new UK/USA empire," in his words), were varied, and his discoveries very amusing.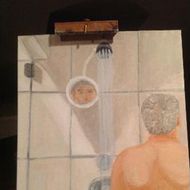 Among the Guccifer haul: Bush in the shower, Bill Clinton's boner doodle, a Downton Abbey finale script, Candace Bushnell's work-in-progress, and Colin Powell's "very personal" correspondence with a much younger woman. (The list goes on.)
The 40-year-old alleged hacker reportedly had his home raided last night in the Romanian city of Arad, with the help of the U.S. authorities. Lehel, who went by "Little Smoke" and "pipes Theven" before becoming Guccifer, was charged with similar hacking offenses in both 2011 and 2012. There's no word yet on extradition.
Earlier this month, Guccifer provided the Smoking Gun, his preferred leaking partner, with a massive trove of new lifted documents, "in case I disappear," he said. "I don't know what near future hold for me," he added, but his arrest most likely does not yet mean the end of his reveals.