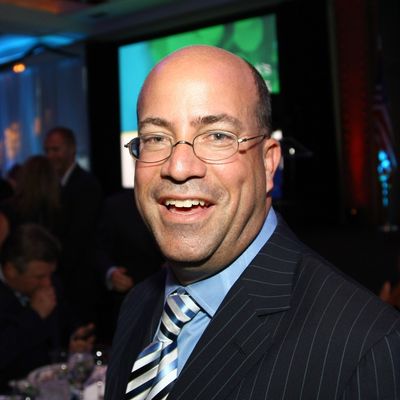 Photo: Neilson Barnard/2009 Getty Images
It's been a year since Jeff Zucker took over CNN, and so far, the worst fears of veteran Zucker Watchers have not materialized. The former NBC chief — who was widely blamed, fairly or not, for running the Peacock network into the ground — hasn't super-sized Wolf Blitzer or developed a half-hour comedy built around Dr. Sanjay Gupta and his new wacky sidekick Emeril Lagasse. Ratings-wise, CNN's audience has neither surged nor sank during Zucker's first year: Prime time is up a tick (not bad given the big losses at MSNBC and Fox News in 2013), and in total day ratings, CNN's average audience (414,000 viewers) is virtually the same as a year ago. Thanks to MSNBC's woes, CNN is now back to being No. 2 among the news channels. But a much-ballyhooed new morning show hasn't really moved the needle that much in terms of ratings or buzz, and Crossfire 2.0 hasn't become Must-See TV for the D.C. crowd.
The biggest surprise of Zucker Year One has been how quiet Zucker himself has been: The exec who never missed the chance to make a Bold Pronouncement About the Future of Television when he ran NBC avoided virtually all contact with the press during his first year at CNN. That's started to change in recent weeks. He talked to Capital New York last month, patted himself on the back in a year-end memo to staff, bared his soul to Ad Age this week, and will meet with press tomorrow at the TV Critics Association winter press tour. Zucker clearly thinks he's off to a good start at CNN, but do the facts back up that assessment? Let's weigh the good and bad of his tenure so far.
Good: Jake Tapper
Hiring ABC's former chief White House correspondent was Zucker's first big move, and perhaps one of his best. Tapper, while only 44, comes from the Sam Donaldson school of aggressive and/or borderline obnoxious TV reporting. That's a compliment, not a dig: TV news in general needs more anchors willing to challenge newsmakers and pundits, to be a bit of a bully. (This is particularly true in an age when ABC hypes Diane Sawyer as the warm and cuddly BFF whose show might give you some helpful medical advice, while NBC seems content to let Brian Williams be better known for slow jamming the news rather than actually reporting it.) MSNBC and Fox News make noise with their partisan prime-time anchors. Tapper breaks through the white noise of the bland and largely interchangeable news jockeys who populate CNN's daytime lineup. And while it seems likely that CNN will give him more daytime real estate, it'd be even better if the network made him the face of an investigative unit charged with producing monthly prime-time reports.
Bad: The Poop Cruise
The network that once made a name for itself going wall to wall with coverage of the 1991 Iraqi war last year sullied its name by going wall to wall with coverage of … the Poop Cruise. For several days last February, and just a few weeks after Zucker officially joined the network, CNN treated a smelly, troubled Carnival Cruise liner like it was the 21st-century Titanic. Yes, there were bigger journalistic sins committed by CNN last year, most notably John King incorrectly reporting an arrest in the Boston Marathon bombing. But the Poop Cruise is, pardon the pun, the biggest stain on Zucker's first-year legacy, or at least the one that most directly bears his fingerprints. Sure, ratings briefly surged because of the fecal focus, rising to around 50 percent over its usual levels. But after the numbers faded, industry insiders and media critics fretted for weeks about how CNN's new boss seemed intent on turning the World's Most Important Network into a local TV newscast during a sweeps month. So far, it turns out that is not Zucker's game plan for CNN, but the Poop Cruise was a needless distraction for Zucker.
Good: CNN Films
Zucker gets no credit for CNN's decision to start making and acquiring feature-length documentaries; the network launched CNN Films before his arrival. But with the success of titles such as Our Nixon and Blackfish, Zucker has embraced and doubled down on the idea. Blackfish was only scheduled to air a few times on CNN, but after strong early ratings, the network started adding more and more runs of the film. And last month, it announced plans for CNN Films Presents, a showcase for older docs that may have already been exposed on TV, such as March of the Penguins. All of the films won't generate great ratings or big buzz, but CNN's move into this world is welcome on many levels: It expands the potential audience for docs, gives outside voices a chance for exposure on an internationally distributed network, and gives viewers a respite from cable news's endless parade of talking heads and fear-mongering. And it sure beats MSNBC's alternative to non-news programming: Hours upon hours of reality shows exploiting the plight of our nation's prison population.
Bad: Piers Morgan is still on CNN
Mocking the host of CNN's 9 p.m. hour isn't a tradition that began with Morgan: Larry King was poked and prodded by comics and media critics for most of his 25-year run on the network. But King at least could be counted on for landing every big name in the world, from politicians to celebs. Interesting guests on Morgan's show seem few and far between. And while he lobbed softballs, King still generally managed to make interesting conversation with his guests, and sometimes even news. The only time Morgan's show makes headlines is when he yells at a guest or gets on his soapbox about his latest cause. And he regularly ranks third in the hour behind MSNBC and Fox News, losing about 15 percent of his Anderson Cooper 360 lead-in among viewers aged 25 to 54 (the demo group that news nets target). I suspect the only reason Zucker hasn't replaced Morgan yet is because he hasn't found the right replacement. Hopefully that will change in 2014.
Good: Anthony Bourdain's Parts Unknown
CNN won a prime-time Emmy for this travel-adventure series, and deservedly so: Every episode is an immersive, informative, and consistently entertaining journey to a different corner of the world. (It's like The Amazing Race, but in slow motion.) As with CNN Films, Bourdain's hiring predates Zucker's arrival, but Zucker has relentlessly promoted Parts Unknown, run marathons of past episodes seemingly every weekend, and not done anything obvious to meddle with the show's format or style. More important, he's made it clear that Parts Unknown is a template for what he wants to do with CNN, which is very encouraging. When Zucker says he wants to broaden "the definition of news," it's easy to get worried he just plans to copy Ron Burgundy in Anchorman 2 and make silly things into big events (you know, like a stranded cruise ship that smells like poop). But if CNN starts doing more interesting shows in the vein of Parts Unknown or even Morgan Spurlock's Inside Man, that would be a very good thing indeed.
Bad: CNN doesn't feel like a vital part of the daily political conversation
Part of this is because the network, thankfully, has no partisan skew, a la Fox News and MSNBC. Politicians looking to make big news or policy pronouncements these days tend to gravitate to the channel in line with their political philosophy; political junkies tend to use a similar filter when choosing what to watch. But being doggedly centrist doesn't mean CNN political coverage has to be as bland and boring as it was in 2013. Zucker got rid of a number of veteran political analysts (James Carville, for example), but the new pundits never seem particularly interesting or insightful. Contrast this with MSNBC, which is home to an ever-expanding and culturally diverse collection of talking heads from both the political and media worlds (including several employed by New York Magazine). The new version of Crossfire is a snooze, owing mostly to the fact that it's hosted by four political operatives instead of two sharp journalists. (Pat Buchanan worked at a newspaper before he became one of Nixon's hatchet men.) Perhaps Zucker was just waiting for 2014, an election year, to reveal a new strategy for getting CNN back in the political game.  
The Verdict
Overall, it's too soon to render a definitive judgment on Zucker: CNN's decline from being the cable-news network to an also-ran behind the dominant Fox News and the more sharply defined MSNBC brand didn't happen overnight, and a turnaround will require years of rebuilding. On balance, though, Zucker's first year has actually offered glimmers of hope for those of us who have watched CNN for decades and are rooting for it to be relevant again. The investment in long-form programming and the arrival of top-notch talent such as Tapper signals that Zucker isn't going to rely (or at least not solely rely) on the sorts of gimmicks he used at NBC. It's also great to see CNN focusing on topics beyond politics and hard news: The sports show Unguarded harks back to the the network's past, when series such as Style With Elsa Klensch and Showbiz Today were proud staples. (Replacing talking heads with reporting is always a good thing.) And while CNN's day-to-day coverage of breaking news in 2013 still offered plenty of fodder for The Daily Show, the level of ridiculousness was on par with past years. It's still completely possible that Zucker has just been laying low his first year, and that 2014 will see a return to the shlock and awfulness which became his trademark at NBC. After all, there are already rumors that CNN is interested in luring Jay Leno to the network, which would be the ultimate in déjà vu. So far, though, Zucker hasn't totally ruined CNN, and he's arguably made it a little bit better.