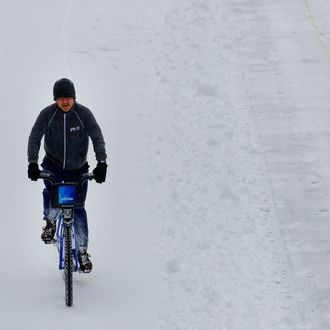 Photo: Jin Lee/Bloomberg/Getty Images
It was not without a certain amount of incredulity that we learned Wednesday about Citi Bike's surprisingly high ridership during the polar vortex: According to the system's records, people took 6,669 trips on Citi Bikes on the city's coldest day in a century. What were they all doing? Where in the world could they have been going? Now that winter is well under way, we checked with Kate Fillin-Yeh, the director of the bike share program for the New York City Department of Transportation, to find out what people do on Citi Bikes when it's six degrees out and how all that bright blue infrastructure is standing up to the snow.
"The thing we're seeing the most is that people really seem to use bike share in conjunction with other forms of transit. So on the busiest days the ones around Grand Central, Union Square, and Astor Place are busiest," Fillin-Yeh said. That's because people ride, say, from the East Village to the subway, or from Grand Central to work. "If you look at Tuesday, the same thing is at work. If you've got a twenty-minute cold walk or a five-minute cold bike ride, the five-minute ride is the best option."
Those who do decide to ride are generally not doing it for pleasure. On an average day, some twenty percent of the people using the system are doing so with a one-day pass, meaning they're probably tourists. When it's cold, that number drops down to about one percent, according to DOT. In addition, Tuesday's average trip duration was ten minutes, compared with averages of fifteen to twenty minutes in nicer weather. "It might be something where Tuesday was not the day you decided to start in downtown Brooklyn and bike all the way to your job in Soho, but you still want to ride to the train," Fillin-Yeh said.
As for the bikes themselves, Fillin-Yeh said they were "incredibly solid" and hadn't started breaking down en masse. "The system works well in cold weather. People seem to be pretty happy."
And what about those racks during the first couple of big snow storms? It wasn't totally clear, in advance, how they were going to fare. "In terms of the snow itself, Citi Bike did a great job of pulling the bikes out of the exposed racks, putting flags up at racks to alert the snowplows, generally keeping the system functional during that time." Those are plans they'd made with the Department of Sanitation in advance, Fillin-Yeh said, and so far they were working. But winter is young yet. It will be interesting to see whether the apparent enthusiasm for this system continues through the slush puddles of March.