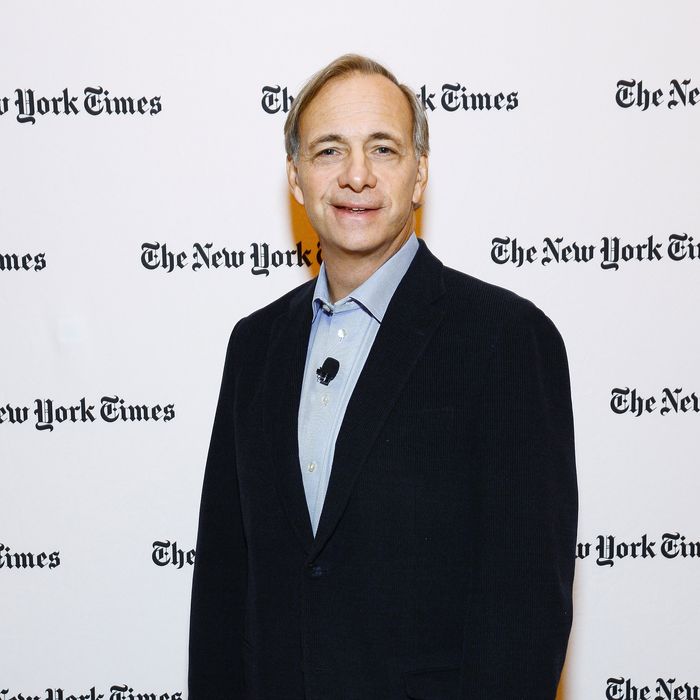 Ray Dalio.
Photo: Larry Busacca/Getty Images
Ray Dalio, the billionaire founder of hedge-fund behemoth Bridgewater Associates, had a great 2013 in terms of making YouTube videos and pissing off boaters in Connecticut. But investing? Not so hot.
Bridgewater, which is known on Wall Street for its culture of brutal honesty and Dalio's intense workplace manifesto, lost about 4 percent for the year in its so-called "All-Weather" fund, and gained only 5.25 percent in its Pure Alpha fund. That's pretty bad for a hedge fund with 1,500-odd employees and a deep roster of trading whizzes, in a year when just putting your money in an S&P 500 index fund and going to the beach would have made you about 30 percent.
In fairness, as Matt Levine points out, Bridgewater's "All-Weather" portfolio isn't really meant to make money regardless of what happens in the markets. It's a portfolio that is balanced in a specific way such that it stays relatively stable during crashes.
Bridgewater is justly famous for its performance during 2008 and 2009, when the market was freaking out and lots of hedge funds went bust. But the downside of optimizing for loss avoidance is that you often miss out when the markets rally. And that's a problem for Dalio, who used to look like an oracle, but now has some explaining to do.