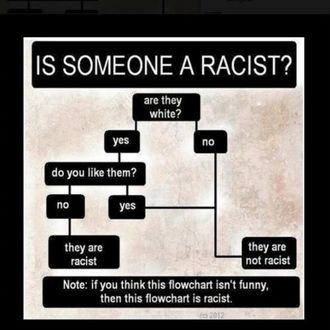 On Friday evening, a flowchart titled "Is Someone a Racist?" appeared on the Iowa Republican Party's Facebook page along with this message: "Because it's Friday night and we don't need serious political posts on Friday night we are sharing this. Happy Friday and LIKE and SHARE! Unless you think the chart is racist, then don't." Unsurprisingly, the flowchart did, in fact, suggest that racism is acceptable.
The flowchart first asked if the potential racist was white or not white. If they weren't white, they were not a racist. A good start! Unfortunately, it then asked if the potential white racist was someone the flowchart user liked. If the answer was "yes," the person was not a racist. However, if the answer is no, then "they are racist."
The flowchart was removed less than an hour after it went up. (But not before the Daily Beast got a screenshot.) "Earlier tonight, a contractor of the Iowa GOP made a post referencing a discussion on race that the GOP believes was in bad taste and inappropriate," wrote Iowa GOP chairman A.J. Spiker in another Facebook post. "We apologize to those whom were offended, have removed the post and are ensuring it does not happen again." On Saturday, Spiker said that the contractor had been fired. Unfortunately, we're sure there's plenty of work for them elsewhere.