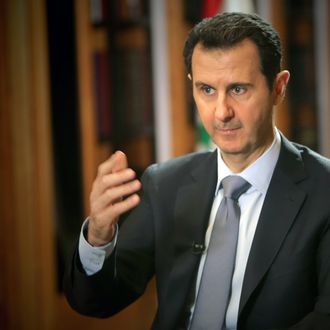 Assad speaks with AFP over the weekend.
Photo: AFP PHOTO/JOSEPH EID
It's taken eight months to put together a peace conference to end Syria's civil war, and the United States wasn't about to let an unexpected guest ruin everything – though technically, it's not hosting the party. On Sunday, the United Nation invited Iran – the main military and financial backer of President Bashar al-Assad's regime – to participate in the talks, prompting a boycott threat from Syrian opposition leaders. Under intense pressure from the United States, on Monday U.N. Secretary General Ban Ki-moon rescinded Iran's invitation, and the Syrian rebels immediately agreed to let the conference begin on Wednesday in the Swiss city of Montreux.
Ban said he invited Iran to participate after officials assured him that they supported the 2012 agreement that the goal in Syria is to establish a transitional administration, with the consent of the rebels and the Assad regime. Iranian officials said on Monday that they accepted the invitation without "any pre-conditions." "The secretary-general is deeply disappointed by Iranian public statements today that are not at all consistent with that stated commitment," Ban's spokesman Martin Nesirky said, explaining why they were no longer welcome at the conference.
Expectations for the talks were low even before the international kerfuffle over Iran (which coincidentally occurred on the same day some sanctions were temporarily lifted as part of the deal to curb Iran's nuclear program). Since Secretary of State John Kerry announced plans to convene a peace conference in May, Assad's position has improved militarily and diplomatically, while the rebel groups have become more fractured.
Assad definitely didn't sound like he was ready to relinquish power on Monday. In an interview with AFP, he said the talks should focus on his "war against terrorism," which is how refers to the rebels, adding that the idea of allowing opposition representatives in his government is "totally unrealistic." Assad also said he sees "no reason" why he shouldn't run for reelection in June. "In short, we can say that the chances for my candidacy are significant," he said.