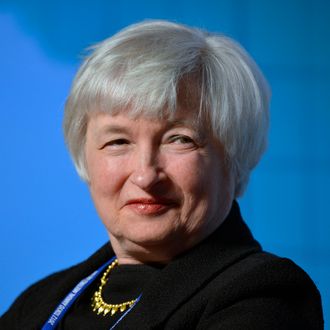 The change in the Senate's filibuster rules essentially ensured that Janet Yellen would be confirmed as chairwoman of the Federal Reserve by the full Senate, so the only drama today involved the high number of lawmakers unable to vote due to polar vortex. The Senate confirmed Yellen by a vote of 56-26, with all Democrats and eleven Republicans voting in her favor. Most of the remaining eighteen senators were not present because the frigid weather prevented them from traveling to D.C.
Despite the lack of intrigue, the vote did set a number of records. Most notably, Yellen will be the first woman to head a major central bank when she begins her four-year term on Feb. 1. She's also the first new Fed chair appointed by a Democratic president since 1979. Less notably, she received the fewest votes of any Fed chair.
The biggest task before Yellen, who is currently the vice chairwoman of the Fed's board of governors, is tapering off bond buying without derailing the recovering economy. She got a few more words of encouragment on Monday in a statement from President Obama. "With the bipartisan confirmation of Janet Yellen as the next Chair of the Federal Reserve, the American people will have a fierce champion who understands that the ultimate goal of economic and financial policymaking is to improve the lives, jobs and standard of living of American workers and their families," he said.