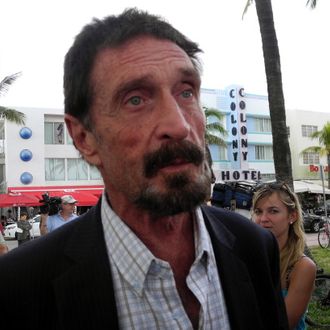 Software company founder John McAfee talks to AFP in front of this hotel in Miami Beach, Florida on December 13, 2012, a day after being deported to US from Guatemala, where was detained last week for immigration violations. Anti-virus software pioneer John McAfee was back on American soil Wednesday after being expelled from Guatemala, escaping immediate deportation to Belize for questioning over his neighbor's murder.
Photo: Paula Bustamante/AFP/Getty
After Intel CEO Brian Krzanich mentioned at the Consumer Electronics show Monday that the company would be renaming McAfee Antivirus, the ever-quotable John McAfee told the BBC he was elated at the news. "I am now everlastingly grateful to Intel for freeing me from this terrible association with the worst software on the planet. These are not my words, but the words of millions of irate users," he said. Some of those words appear in a video McAfee produced last year, in which he shoots a laptop while shirtless and high on bath salts.