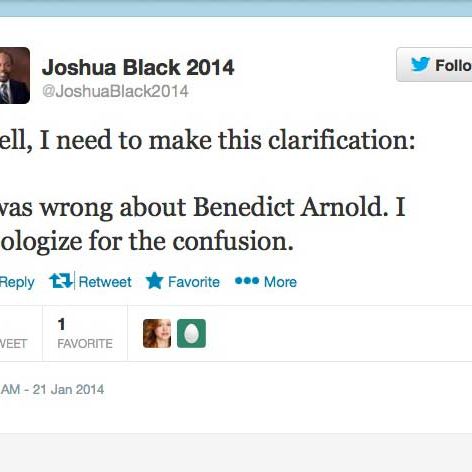 What kinds of people dream of populating the asylum also known as the Florida House of Representatives? Meet Joshua Black, the street-preacher Republican candidate who made a name for himself on MLK Day by calling for the execution of President Obama. He has since said he's sorry (for an incorrect historical allusion — #BenedictArnold — not the "kill the president" part).
It started, like all rational political debate, on Twitter:
And then, naturally, moved to Facebook (sic throughout, of course):
Only today did Black see the error of his passionate ways. "Well, I need to make this clarification: I was wrong about Benedict Arnold," who was never executed, he wrote. "I apologize for the confusion." At least hundreds of Floridians will vote for this man. Bet on it.