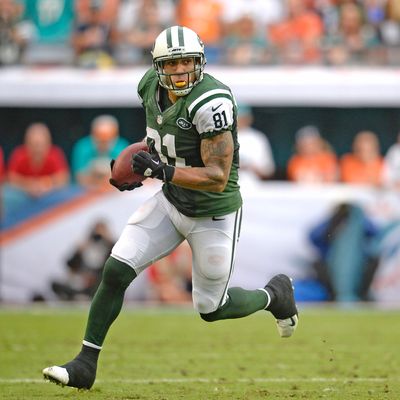 Photo: Richard C. Lewis/Icon SMI/Icon Sports Media
The November arrest of Jets tight end Kellen Winslow was already absurd — he was caught with synthetic marijuana in the parking lot of a New Jersey Target at 5:30 p.m. — but it just became a classic of the genre. According to the police report obtained by NJ.com, the witness who called 911 allegedly observed Winslow masturbating in his Cadillac Escalade:
>
As she exited her vehicle, she commented to the male regarding how cold it was. As she stood near the open driver side window of the Escalade, she observed the males [sic] erect penis. She stated that she believed he was masturbating.
The details get better from there:
"

When the cop asked Winslow what he was doing, Winslow allegedly said he was looking for Boston Market but was

 

lost."
The reporting officer observed "two open containers of Vaseline on his center

 

console."
Plus: "plastic bags marked 'Mr. Happy' and empty plastic containers of 'Funky Monkey' scattered throughout the

 

vehicle."
Another job well done.