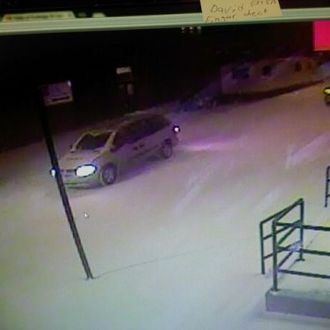 There's a grim new update in the ongoing investigation into the apparent kidnapping of Menachem Stark, the 39-year-old businessman who went missing from his office near the Williamsburg Bridge before midnight on Thursday. On Saturday morning, the New York Post and the New York Daily News reported that Nassau County police had discovered a "badly burned body in Great Neck believed to be the Hasidic real estate developer" Friday afternoon on Cuttermill Road. On Saturday afternoon, the cops confirmed that the body was Stark's.
The owner of the gas station where Stark was found, Fernando Cerff, told Newsday that he was "plowing out of the snow Friday morning when [he] saw smoke coming from the trash container." "I wanted to know what was going on there…because my customers are coming and that smell was terrible in the afternoon," he recalled.
Before the body was identified on Saturday, the NYPD released two surveillance videos showing suspects forcing Stark into a light-colored Dodge Caravan on Rutledge Street near Broadway during Thursday night's snowstorm. In the first, longer clip, you can faintly make out movement in the top left of the screen.

A second video shows the van driving down snow-covered Rutledge Street near Broadway.
This post has been updated throughout.