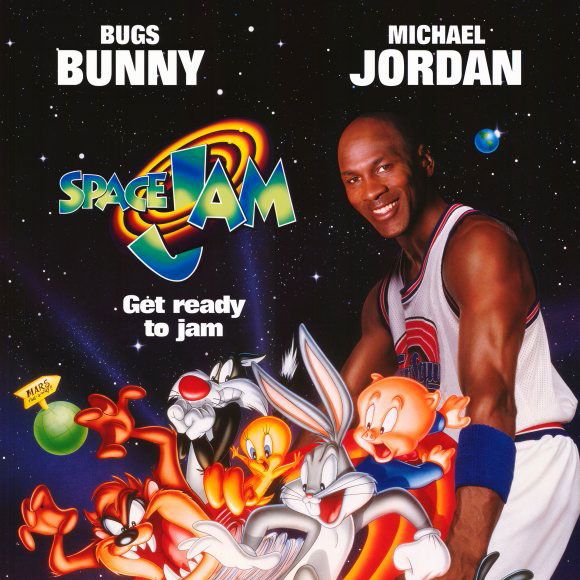 A former Chicago Bull, beaten down and broke(n), ventures to a foreign land. A group of ex-NBA stars take the court with diminished ball skills. A rotund despot lurks.
Is that the setting for tomorrow's big basketball game in North Korea, in honor of Kim Jong-un's birthday, or the narrative cocktail from Space Jam (1996)? The half-animated movie revolves around a scheme to kidnap cultural figures — the various Looney Toons and Michael Jordan — for the purposes of entertainment slavery in a declining land, which actually happened in 1978 when Kim Jong-il kidnapped South Korean director Shin Sang-ok to jump-start the lackluster North Korean film industry.
One can only wonder if Dennis Rodman's latest North Korean cameo is a bit of performance art: While holding tryouts for the North Korean team recently, he was photographed wearing a pink shirt and smoking a cigar — the two most striking accessories of Swackhammer, the antagonist of Space Jam. Weird enough for you? Here are seven other uncanny parallels.
Dream Team of ex-NBA Stars
Space Jam: To avoid being enslaved as cultural props, a retired Michael Jordan and a crew of Looney Toons must win a basketball game against a cabal of tiny aliens, who steal the skills of NBA stars Patrick Ewing, Charles Barkley, Larry Johnson, Shawn Bradley, and Muggsy Bogues, leaving them unable to cut it in the league.
North Korea: Rodman has assembled a team of ex-NBA players to face off against the North Koreans, including Kenny Anderson (43), Vin Baker (42), Doug Christie (43), Craig Hodges (53), Cliff Robinson (47), and Charles Smith (48). They are all light-years past their prime; Christie has dabbled in porn.
Potemkin Village Setting
Space Jam: Moron Mountain has bright lights and carnival rides that seem to mark it as a fun, happy place. Yet it is under the hegemonic rule of Swackhammer, an overweight autocrat who watches his world through a television. The planet is becoming more unpopular, which is why Swackhammer devises a plan to enslave the Looney Toons, and later, Jordan. He receives a ridiculous massage during the basketball game; Moron Mountain seems designed to cater to his hedonistic lifestyle while everything else falls into disrepair.
North Korea:  Though the image-obsessed government tries to portray the country as a shining example of statehood — for instance, with amusement parks and a new, multimillion-dollar ski resort — hunger and murder are widespread. Quality of life is low. Power flows through one man, also portly and also with an affinity for extravagant indulgences.
Fixation on Michael Jordan
Space Jam: Once Swackhammer sees Jordan play, he forgets how he had coveted the Looney Toons for Moron Mountain; he only has eyes for Michael. "You'll be our star attraction. You'll sign autographs all day long and play 1-on-1 with the paying customers," he fantasizes.
North Korea: Kim Jong-un has idolized Jordan since his youth, when he wore Air Jordans and drew "meticulous" and time-consuming pictures of His Airness. He inherited the fascination from his father, who was said to have in his possession footage of every game Jordan ever played as a Chicago Bull.
Spurious Hole in Ones
Space Jam: Michael Jordan hits a hole in one with the help of a potent cartoon magnet handled by Bugs Bunny.
North Korea: Kim Jong-il once hit eleven hole in ones in eighteen rounds of golf, according to apocryphal state media reports. 
Misleading Killer Dogs
Space Jam: Bugs Bunny and Daffy Duck face the wrath of an immense-seeming bulldog as they try to retrieve a pair of basketball shorts, but Jordan's children easily tame the bulldog, exposing its normal size.
North Korea: A Chinese newspaper reported that Kim Jong-un fed his uncle to a pack of hungry dogs. The report has since been debunked, as it stemmed from a satirical social-media post. His uncle was likely killed by firing squad.
Lowly Hangers-on
Space Jam: Stan Podolak (played by Wayne "Newman" Knight) is a sycophantic PR flack assigned to Jordan. He seems to covet any meager kilowatt of the celebrity glow he can get. "If you need anything done around the house, I'll be happy to help. Anything you need," he tells Jordan.
North Korea:  Covered in piercings, tattoos, and color, Rodman has always been his own spectacle, but with his NBA days receded, he became a has-been until his de facto ambassadorship to the North Korean dictator resuscitated his relevance. This latest trip allows the show to go on.
Bizarre Lack of Perspective
Space Jam: A loss for the Looney Toons would mean slavery, but Jordan seems to forget the gravity of the situation. "Guys, let's just go out and have fun," he says before the game.
North Korea: Despite the country's atrocious human-rights record, in interviews Rodman sticks with variations on the theme of Kim Jong-un is an "awesome guy."