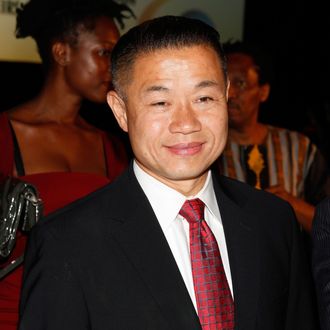 Photo: Thos Robinson/2013 Getty Images
Thanks to a long fund-raising scandal, former comptroller John Liu never had a chance of winning last year's mayoral race. (He ultimately garnered 7 percent of the vote.) Still, he distinguished himself by working harder than any candidate. As Daily Intelligencer learned the hard way back in August, he regularly made twelve stops a day for a campaign schedule "so grueling that even New York's jaded political press corps has gawked." As Politicker notes, it seems that he ended up a bit addicted to the routine: Even though the Democratic primary is long over and Scott Stringer has taken over the comptroller's office, it seems that Liu, who is "supposed to be weighing jobs in the private sector," is still using his campaign e-mail address to send reporters his daily itinerary, which remains full.
Over the weekend, he made appearances in four boroughs, including one at the swearing-in of new Brooklyn Councilwoman Inez Barron. He was accompanied by a "longtime campaign aide" who claimed to be "volunteering" her time. "I'm not going to have a public schedule everyday," Liu said, adding that some journalists had asked him to "keep in touch." "But we'll have one this weekend, really not much during the weekdays, but evenings and weekends." Basically, if any local politics reporters are looking to join Liu and his staff in taking on some of their old work responsibilities for free, the option is available.