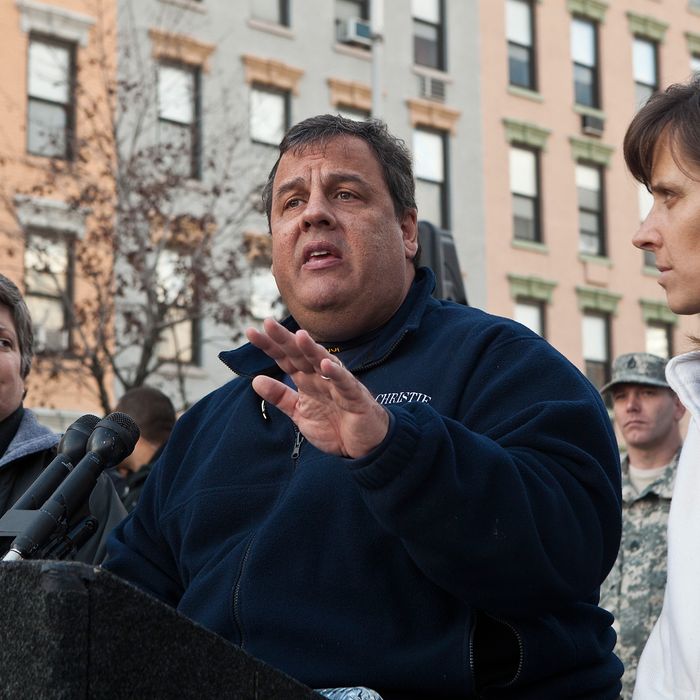 Janet Napolitano, Christie, and Zimmer.
Photo: Andrew Burton/2012 Getty Images
As if the Bridgegate scandal wasn't bad enough, Chris Christie's widely praised handling of Hurricane Sandy is starting to look a lot less admirable. Earlier this week, federal officials began investigating Christie's possible misuse of relief funds after the storm. And, on Saturday morning, Hoboken Mayor Dawn Zimmer said that Christie officials told her they would withhold Sandy aid from her city unless she approved a redevelopment project favored by the New Jersey governor. Zimmer, a Democrat who has long supported Christie, made the allegations on Saturday morning's episode of MSNBC's Up with Steve Kornacki.
According to Zimmer, the trouble with Christie started over an undeveloped nineteen-block patch of land in Hoboken. When Zimmer became mayor, she inherited preliminary plans for the New York–based Rockefeller Group — which is represented by Wolff & Samson, the powerful law firm of Christie-appointed Port Authority chairman David Samson — to develop the space. However, Zimmer did not want to move forward with the plan without a professional study of the proposed project. In December 2010, the Port Authority gave Zimmer a $75,000 grant for the study, which was conducted by a firm selected by the Port Authority. When Zimmer finally received the results in January 2013, she was surprised to see that only three blocks of the undeveloped area had been deemed fit for redevelopment — and those blocks just happened to be the ones owned by the Rockefeller Group. 
In April, Hoboken's planning board voted against the Rockefeller Group–favoring plan suggested by the study, pushing to have the entire nineteen blocks developed instead. At the same time, the Christie administration was distributing Hurricane Sandy relief money. Eighty percent of Hoboken was flooded during the storm, and Zimmer requested over $100 million in recovery funds. However, she only received $342,000. Zimmer told Kornacki that New Jersey Lieutenant Governor Kim Guadagno and Community Affairs Commissioner Richard Constable were pretty clear about why the money was withheld:
Zimmer shared this diary entry which she said she wrote later that day. "At the end of a big tour of ShopRite and meeting, [Guadagno] pulls me aside with no one else around and says that I need to move forward with the Rockefeller project. It is very important to the governor. The word is that you are against it and you need to move forward or we are not going to be able to help you. I know it's not right – these things should not be connected – but they are, she says, and if you tell anyone, I will deny it."
Four days later, Constable paid Zimmer a visit. That episode was also recorded in her diary:
We are mic'ed up with other panelists all around us and probably the sound team is listening. And he says "I hear you are against the Rockefeller project". I reply "I am not against the Rockefeller project; in fact I want more commercial development in Hoboken." "Oh really? Everyone in the State House believes you are against it – the buzz is that you are against it. If you move that forward, the money would start flowing to you" he tells me.
Unsurprisingly, representatives for Christie and Constable denied the claims. Pointing out that Zimmer had previously been "effusive in her public praise of the Governor's Office," Christie spokesman Michael Drewniak wrote in a statement to MSNBC, "What or who is driving her only now to say such outlandishly false things is anyone's guess." Meanwhile, Zimmer told Kornacki that she'd be "more than willing to testify under oath" and "answer any questions and provide any documents, take a lie detector test" to prove that her accusations are true. Don't be surprised if it comes to that.
Update: New Jersey Assemblyman John Wisniewski, the head of the committee investigating the George Washington Bridge scandal, has issued a statement responding to Zimmer's story: "The allegations discussed today by Mayor Zimmer are serious and yet again raise concern about abuse of government power. This certainly has attracted our attention. We need to obtain all relevant facts, confer with our special counsel and determine the committee's best course of action."