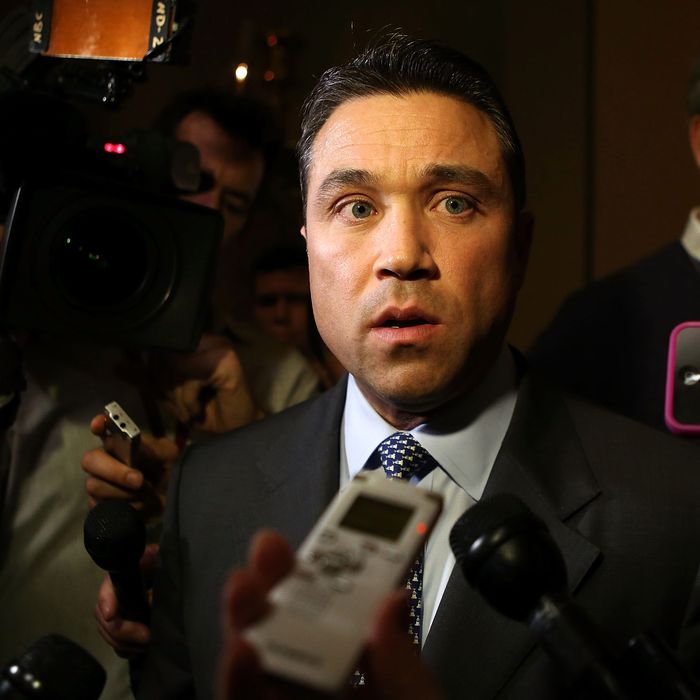 Big man Michael Grimm.
Photo: Alex Wong/Getty Images
Confirming the worst stereotypes about Staten Island, home of Mob Wives, fifth borough Representative Michael Grimm introduced himself to the nation last night, following President Obama's State of the Union address, in the worst way possible. During an on-camera interview with NY1's Michael Scotto, Grimm stormed off when asked about the ongoing federal investigation of his campaign finances, only to return and tell Scotto, still on-camera, "You're not man enough. I'll break you in half. Like a boy," among other Staten Island–y things. The congressman, in a defensive statement last night, then refused to apologize. Ladies and gentlemen, meet Michael Grimm.
"I don't believe the substance of the threat," said Scotto this morning. "I'm not taking it personally. I'm not frightened by it." NY1 nonetheless demanded a full apology. The station's political director Bob Hardt added that this wasn't the first time Grimm "blew his top" at an NY1 reporter. In December, Hardt said, it happened off-camera: "After the interview, Grimm became red-faced and started yelling at both [reporter Errol Louis] and me, alluding to settling the issue by 'taking it outside' with our political anchor – acting as if he were in a bar instead of a TV studio."

On Wednesday morning, Grimm belatedly called Scotto to say he was sorry. "He said that he overreacted. He said that behavior's not me," Scotto told Politicker. Grimm, he added, "backtracked entirely from what he had said in that statement," in which the congressman explained, "I verbally took the reporter to task and told him off, because I expect a certain level of professionalism and respect." Scotto added, "He did seem sincere, but at the same time, he's aware that the coverage over the last 12 or so hours has been pretty terrible for him. Whether that contributed, I can't speculate."
In a fresh statement, Grimm said, "I was wrong. I shouldn't have allowed my emotions to get the better of me and lose my cool. I have apologized to Michael Scotto, which he graciously accepted, and will be scheduling a lunch soon." (Mayor De Blasio recommended the House "absolutely" sanction the Staten Islander.)
"Grimm has anger issues," a former staffer told the New York Post. "This is not the first time he's tried to intimidate a reporter." Nor is it the first time he's done something shady and blamed the press.
The Republican, a former Marine, undercover FBI agent, and Wall Street banker (his securities employer was "sanctioned repeatedly by regulators for gouging customers"), has some suspect business deals in his past, even beyond the allegations that he accepted illegal campaign contributions in 2010. Earlier this month, his former fund-raiser was arrested and charged with using "straw donors." Last year, another character in the investigation, an Orthodox rabbi whose supporters donated hundreds of thousands of dollars to Grimm, pleaded guilty to visa fraud. Also from the Grimm files: "U.S. Ties Legislator's Ex-Associate to Mob."
It may not surprise you that he's a Rudy Giuliani guy. "Don't be fooled by the shameful attacks in the media," said the former mayor in a campaign ad. "Michael Grimm's character and integrity are second to none." (Grimm has suggested naming a Staten Island Ferry after Giuliani.)
More recently, Grimm allegedly spent fifteen minutes in a Bay Ridge bar bathroom with a woman doing … something.
And then there's the gun-in-the-club incident. As reported by The New Yorker in 2011, Grimm was "involved in an altercation at a popular West Indian-themed night club in Queens called Caribbean Tropics, during which he was accused of misusing his F.B.I. authority."
On July 10, 1999, [former N.Y.P.D. officer named Gordon Williams] said, he was working off duty at Caribbean Tropics. Shortly after midnight, Michael Grimm walked in with a woman of Caribbean descent. The woman's estranged husband, who is also of Caribbean descent, was at the club and confronted Grimm. The two men began to argue. Williams escorted Grimm away. Williams recalled, "He said to me, 'Thanks a lot man, he don't know who he's fucking with.' Then he said something frightening. 'I'll fuckin' make him disappear where nobody will find him.'" (Grimm calls this allegation "insane.") After that, Williams said, Grimm and the woman left, as did the husband.
Later, Grimm allegedly confronted the man again, around 2:30 a.m.:
Williams discovered that Grimm and the husband had returned, and Grimm was holding a weapon. Grimm was "carrying on like a madman," Williams said. "He's screaming, 'I'm gonna fuckin' kill him.' So I said to him, 'Who are you?' He put the gun back in his waist and said, 'I'm a fucking F.B.I. agent, ain't nobody gonna threaten me.'" (Grimm said he only moved his gun from an ankle holster to his waistband.)
At 4 a.m., Grimm came back again, this time with police, claiming he'd been assaulted:
Williams said that Grimm took command of the scene, and refused to let the remaining patrons and employees leave. "Everybody get up against the fucking wall," Williams recalled him saying. "The F.B.I. is in control." Then Grimm, who apparently wanted to find the man with whom he'd had the original altercation, said something that Williams said he'll never forget: "All the white people get out of here."
After various investigations and lawsuits stemming from the incident, Grimm said, "I was a hundred percent by the book and fully exonerated." And the alleged threats he made? "That's not my personality," he told The New Yorker. "I don't need to speak that way. A guy with a gun who knows how to use it doesn't need to say anything."
This post has been updated throughout.