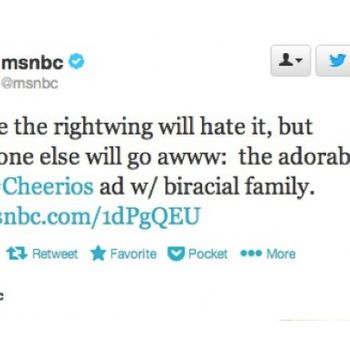 Exactly one month after panelists on Melissa Harris-Perry's MSNBC show sparked a controversy by using a photo of Mitt Romney's African-American grandson as the inspiration for jokes about the Republican Party's alleged lack of diversity, the network is at it again. On Wednesday night, @msnbc posted the tweet above, which links to an article that included the line, "Forget the Seahawks and the Broncos: there may be an outcry from the right but most viewers are likely to declare this ad the Super Bowl winner." So far the "outcry from the right" is aimed solely at the liberal network. Many conservatives tweeted photos of families that look a lot like the one in the Cheerios ad with the hashtag #MyRightWingBiracialFamily.
Several hours later, MSNBC deleted the tweet and changed the line in the article to "there may be another outcry." The network tweeted an apology:
We'd like to amend our previous advice to MSNBC. Mixing babies and political commentary is a bad idea, even if the child in question is a fictional character in a cereal ad.