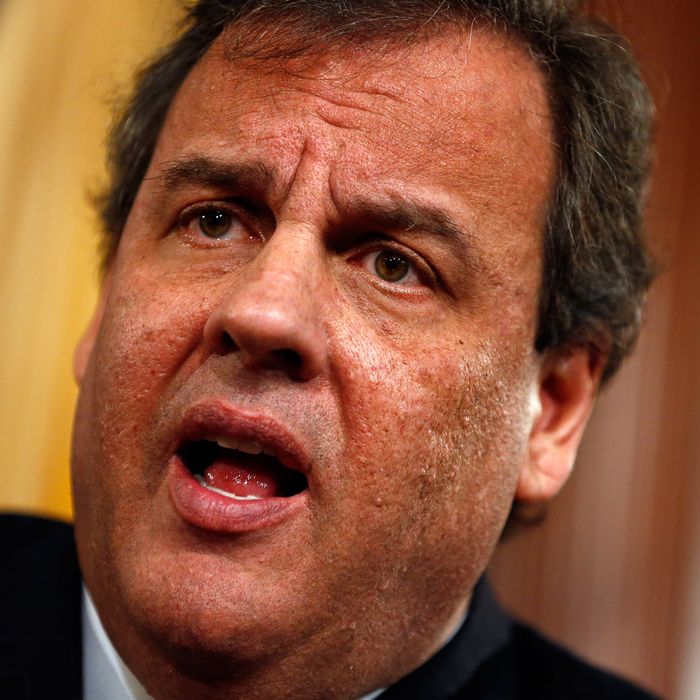 How is it this not about me?
Photo: Jeff Zelevansky/Getty Images
"What does it make me ask about me?" the governor of New Jersey said about halfway through his press conference today, paraphrasing a reporter's inquiry, and even though the event continued long afterward, this question seemed to contain its essence, and in some way the essence of Chris Christie too. The press conference was an odyssey of emotional exploration. Christie had been "betrayed," he said, and "lied to" by a close aide (Bridget Kelly) who had broken their "circle of trust." He felt "sad," and "humiliated," and though "I might get to the stage where I'm angry," the governor said, "I'm not to that stage yet." Except that he had been angry — "the one bit of anger I felt"— when he saw e-mails between Kelly and David Wildstein, one of his political appointees at the Port Authority, plotting to shut down lanes of the George Washington Bridge as an act of obscure political vengeance. Christie invited us to consider his mind-set at that moment, just finishing a workout, his frame bent over an iPad, filling with anger. People often say, when politics get silly, that the whole thing is just theater. In this episode, in Christie's mouth, politics really was theater, in which plot exists only to test the protagonist's character, in which all the essential action is inward: "What does it make me ask about me?"
One got the sense, the longer the questions continued, that in the governor's vision of himself this episode pitched Christie's loyalty against his public responsibilities. Would he be willing fire close friends and longtime aides when they had violated the public's trust? He would. He kept praising himself for the swiftness ("as swiftly as possible") with which he had cut loose his longtime friend Bill Stepian and his senior aide Bridget Kelly. Christie's gifts are immense, and they mostly lie in his ability to turn every policy matter, every political challenge into a question of character, and then to convince voters that his Everyman character is a perfect and honest expression of the place from which he comes. The governor can make any story, no matter how big, about him. (Who, for instance, is the subject of this photo?) Here his gifts failed him. It was all about him. He barely mentioned the people who had actually suffered from the vast traffic jam his giggling aides had unleashed, and downplayed the delays it imposed upon ambulances trying to get to sick people. He refused to concede that there had been no real traffic study. The drama of the event, as Christie described it, occurred entirely within the confines of the governor's office, and it was about loyalty, friendship, trust. At the press conference he wondered, "What did I do wrong to have these folks think it was okay to lie to me?"

A word about those e-mails and text messages that are at the heart of the scandal, sent between his aides and appointees and friends. It is startling how much each of them sounds like Christie, how perfectly they channel his own personal staccato vernacular of sarcasm and swagger and the sheer delight in political combat. "Is it wrong that I'm smiling?" "No." "I feel badly about those kids." "I guess." "They are the children of Buono voters."  Everything about the episode — the bullying of a Democratic mayor, Christie's favorite class of enemy, the politics of vendetta — seems a cousin to things the governor himself has actually done. Christie's political rise — in a very ideological party, in a very ideological age — has been to return politics to a vernacular of personality, to establish something like a cult around himself. Cults are always undone by the zeal of the cultists. The psychological drama of the George Washington Bridge lane closures does not lie in the betrayal of the governor by those very close to him. It lies in what those very close to him thought the governor might approve of, enjoy, in the callousness they displayed when they were mimicking him.