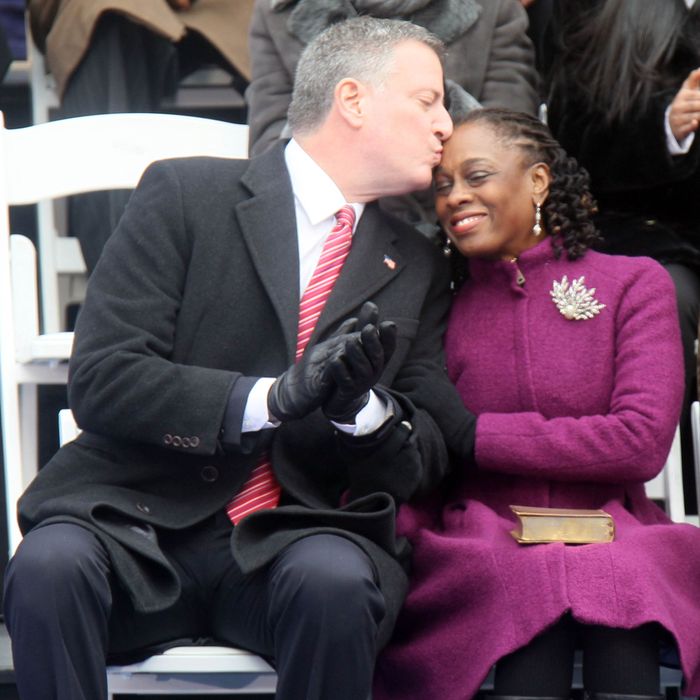 Bill De Blasio and Chirlane McCray at the inaguration.
Photo: Steve Sands/WireImage
Yesterday's mayoral inaugural was stuffed with overt declarations of change, from the wonky (expanded living-wage legislation) to the rhetorical (the city as "plantation"). But one of the starkest images was the generational shift from Mayor Michael Bloomberg to Mayor Bill de Blasio, underscored by the use of a live D.J. spinning post-boomer classics; it's not likely that Bloomberg has Remain in Light, on vinyl, in his East 79th Street record collection.
The two men grew up in very different political eras, with De Blasio now becoming the first and most prominent progressive of his cohort to gain municipal power. The new mayor certainly made a strategic political calculation by appealing so blatantly to his base yesterday: De Blasio wants to energize and mobilize his liberal and labor supporters for the push for pre-K in Albany, among other things. Yet the Bloomberg-bashing tone of the event also seemed to flow from a deeper, personal place. It felt like De Blasio was the bright and idealistic yet somewhat insecure post-collegian who'd come home for the holidays and was telling off rich, arrogant businessman Uncle Mike.
Another psycho-political dynamic was at work yesterday, and will become increasingly important as the De Blasio era takes shape. Back in September, when Bloomberg told me he thought the De Blasio campaign was "class-warfare and racist," Chirlane McCray tweeted, "Enough of the patriarchal thinking." Yesterday, as De Blasio declared that he and the city were making a clean break from the past twelve years, it wasn't difficult to see her touch in his words: McCray often tunes up De Blasio's speeches before they are delivered and critiques his performances afterward. McCray didn't speak onstage at City Hall, but her influence was apparent, from the inclusion of the ferocious young poet Ramya Ramana to the themes in her husband's remarks.
To their credit, the First Couple has been thoroughly upfront about the prominent role McCray will play in the administration's initiatives. Sitting just across the wide, blue-carpeted aisle from New York's new First Lady yesterday were Bill and Hillary Clinton, who famously sold themselves as two for the price of one. The new math at City Hall will take time to decipher, but it's already clear that there's a significant multiplier effect involved.