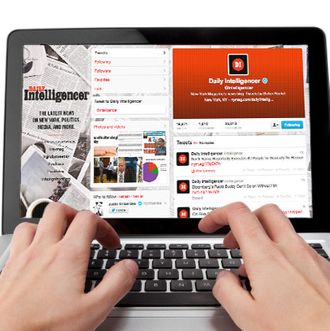 Welcome back to the New York Magazine Competition. The best of last week's submissions, including the winner, appear below this week's call for entries.
To recap: On Monday mornings, we'll lay out a challenge and offer a sample responses. Enter in the comments section, or on Twitter with the hashtag we've provided, and on Sunday the editors will select a winner. Criteria are highly subjective, but heavily retweeted and favorited posts will have an advantage. The prize is a year's subscription to New York in print or a two-year subscription to the iPad edition (winner's choice). Full rules are here.
COMPETITION NO. 10: TIE-IN BOOKS. Please submit a tacky, cynical, or otherwise unliterary spinoff project. For example:
THE 'AUGUST: OSAGE COUNTY' BOOK OF MIXOLOGY
GOOP'S GUIDE TO EVERYTHING KALE!

THE SING SING CORRECTIONAL FACILITY CROSSWORDS COLLECTION (Vols. 1 to 99)
THE RESULTS OF THE 2013 FORT LEE TRAFFIC STUDY

Post your submission in the comments below, or on Twitter with the hashtag #tieinbooks.
RESULTS OF COMPETITION NO. 9: WATCH THAT LAST WORD, in which you were asked for familiar titles or phrases changed by the addition of a single word at the end.
Popular entries: It's a Wonderful Life Sentence. Breakfast/Joy Luck/Babysitters Club Sandwich. Downton Abbey Road. The Lion, the Witch, and the Wardobe Malfunction. 
HONORABLE MENTION TO:
The More You Know Biblically
—CAPTRENAULT
The Amazing Race War
—DONMATTINGLY
Dog Day Afternoon Nap
—JADE7243
Dog Eat Dog Uncle
—FIRSTCLASSTRAMP
Harry Potter and the Goblet of Fire Island
—Amy Engelhardt ‏@iaretweeting
Rage, rage against the dying of the light dressing.
—WALLFLY
Jesus Walks Funny
—CLASSICIST
My Fair Lady Parts
— NOTALOGIN
Oh, The Places You'll Go Crazy!
—KALINKANYC
Yea, though I walk through the valley of the shadow of death metal
—Anthony Bulldis ‏@AJBulldis
Ain't no party like a west coast party, 'cause a west coast party don't stop, figuratively.
—REALITYCZECH
American Horror Story: Kardashian
—NMN68
The Good, The Bad, and The Ugly Shoes
—REGISMAYHEM
Analyze This Goiter
—DUKE84
Kiss Kiss Bang Bang Regret
— GRADUATEDAMBITION
Everyone Says "I Love You, But …"
—NDESQ
Nobody puts Baby in a corner office!
—BAMBOOLOUNGE
It's Not Easy Being Green Taxis 
—Maya ‏@mayakauf
ESPN: The Worldwide Leader in Sports Bras #thatlastword
—Ben Richmond ‏@a_ben_richmond
Escape from New York Magazine
—HAUNT_FOX
AND THE WINNER IS…
I am the one who knocks boots.
—FLIRTYSANCHEZ