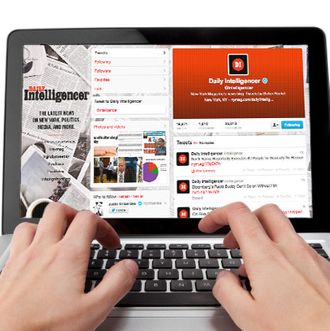 Welcome back to the New York Magazine Competition. The best of last week's submissions, including the winner, appear below this week's call for entries.
To recap: On Monday mornings (or Tuesday, this week, owing to the holiday), we'll lay out a challenge and offer a sample responses. Enter in the comments section, or on Twitter with the hashtag we've provided, and on Sunday the editors will select a winner. Criteria are highly subjective, but heavily retweeted and favorited posts will have an advantage. The prize is a year's subscription to New York in print or a two-year subscription to the iPad edition (winner's choice). Full rules are here.
COMPETITION NO. 11: REALITY TV IN HISTORY. Please submit the title of a premodern reality-television series. For example:
THE REAL HOUSEWIVES OF HENRY VIII
DUCK MING DYNASTY
WHAT THOU OUGHT NOT TO WEAR LEST THEE GO TO HELL
SUMERIAN IDOL
Post your submission in the comments below, or on Twitter with the hashtag #historicalrealityTV.
RESULTS OF COMPETITION NO. 10: TIE-IN BOOKS, in which you were asked for tacky, cynical, or otherwise unliterary spinoff projects.
HONORABLE MENTION TO:
Duck Dynasty's Guide to Dating
—Deb Poppel ‏@DebPoppel
Martha Stewart Living Presents: An Insider's Guide to the Stock Market
—BAMBOOLOUNGE
The Audacity of Hops: Obama's Comprehensive Guide to Beer
—Grand Central Pub ‏@GrandCentralPub
The Silence of the Lambs Cookbook and Hosting Guide
—RGQUEEN
Believe Me, You Don't Want Any of This: 1,001 Things David Brooks Has Tried and Decided That You Shouldn't
—CAPTSERVO
What to Expect When You're Expecting Your Entire Adult Life, by the Duggars 
—King Tengood ‏@kingtengood
Super Bowls: The 100 Greatest Ways To Serve Chips During The Big Game  
—marontheweb ‏@marontheweb
12 Years a Slave: The Real Cajun Cookbook (presented by Popeye's)
—MC5
Smell What the Rock Is Cooking: a Scratch 'n' Sniff pop-up book by Dwayne Johnson
—HOIPOLLOI
Italy: A Guide For Students, by Amanda Knox
—DONMATTINGLY
I, Claudius, Have a Kitchen: Recipes From the House of Augustus
—CAPTRENAULT
Vulture's Guide to Minimalism in Entertainment-Award-Show Coverage
—WALLFLY
Loose Lips: Glamour Magazine's Plastic Surgery Dos and Don'ts Handbook
—JADE7243
R. Kelly's Guide To Decoding Your 21st Century Daughter
—DUKE84
The Breaking Bad Cookbook
—NDESQ
Home Birth: What to Expect When You're Expecting A Terrorist's Love Child, by Carrie Mathison
—GOODTEANICEHOUSE
AND THE WINNER IS:
A Face for Radio: NPR's Fashion and Beauty Compendium
—REGISMAYHEM